Torrance Courthouse Domestic Violence Results
The Torrance Courthouse handles misdemeanor Domestic Violence offenses in three courtrooms (P, 2 and 5) in general. The misdemeanor cases start in Department 3 with Judge David Reinert and then proceed to P, 2 and 5.
Felony Domestic Violence's can be heard in many more courtrooms, but usually start in Department 4 on the second floor with Judge Thomas Sokolov, proceed to Department 8 with Judge Nicole Bershon and then are assigned to one of several courtrooms and judges upstairs.
Which department hears a particular misdemeanor case is determined by where the arrest took place. Arrests in Torrance are assigned to Department P on the fourth floor with Judge George Bird. Arrests in Hermosa Beach and Manhattan Beach are assigned to Department 2, before Judge Rene Gilbertson on the second floor. Arrests in Gardena, Lawndale and Redondo Beach are assigned to Department 5, before Judge Amy Carter.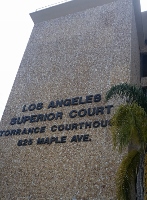 For Torrance Courthouse contact information and a Google Map, please click here.

Each department has one or more prosecutors assigned to it. Over time, prosecutors are transferred to other courtrooms. Prosecutors also change in their approach to domestic violence cases, some more than others.
Consequently, in presenting the case summaries below, we caution the reader not to expect a similar result because no case can have completely and exactly the same facts and the prosecutors do change.
However, the domestic violence results below do help the reader understand how past cases have resolved and what is possible.
Please see our domestic violence results, by city, by clicking on the cities listed below and viewing detailed descriptions of each case.
Gardena Domestic Violence Results
Gardena, Police See and Arrest Client Punching Girlfriend on Ground, Arrested for Felony Domestic Violence, Case Resolved for Simple, Misdemeanor Battery

Gardena, Client Drives Car into Boyfriend, Then Wrestles with Him, Squeezing His Testicles to Cause Him Pain, Resolved for Simple Battery

Gardena, Two Lesbians Fight, No Injuries, Our Client Arrested for Misdemeanor Domestic Violence (Penal Code s 243(e)(1)) and Criminal Threats (Penal Code § 422), Greg Hill Discusses Case with Handling Detective, No File in Torrance Court
Hermosa Beach Domestic Violence Results
Hermosa Beach, Domestic Violence Trial, Our Client Had Prior Domestic Violence with "Victim," Facial Injuries, Case Plea Bargained to Simply Battery Only During Trial
Lawndale Domestic Violence Results
Lomita Domestic Violence Results
Manhattan Beach Domestic Violence Results
Palos Verdes Domestic Violence Results
Rancho Palos Verdes, Our Client Tells Client, "Now You Will Die" and Grabs Large Knife, Slaps Wife Twice
Redondo Beach Domestic Violence Results
Redondo Beach, Drunk Attorney Allegedly Hits Wife on Side of Face, Felony Case Dismissed

Redondo Beach, Registered Nurse Client Almost Stabs Husband with Knitting Needle, Case Plea Bargained to Delayed Entry of Judgment and Dismissal

Redondo Beach, Bail Reduced and Felony Domestic Violence Case Negotiated to Misdemeanor Battery (Penal Code § 242) Only

Two Redondo Beach Domestic Violence Cases Consolidated into One, Plus a Witness Intimidation Allegation (Penal Code § 136.1) and Violation of Protective Order (Penal Code § 166(a)(4)), Resolved for No Jail
Torrance Domestic Violence Results
Torrance, Severe Facial Injuries to Victim, Case Settled for Delayed Entry of Judgment and Dismissal

Torrance, Client Allegedly Hits Wife, but No Visible Injuries to Her, Delayed Entry Of Judgment And Dismissal

Client Charged with Misdemeanor Domestic Violence (Penal Code § 243(e)(1)) on Girlfriend, Completes Expedited Batterer's Program While Case Pending, Serves Only 42 Days of Summary Probation

Torrance Domestic Violence Case; No Visible Injuries; Case Resolved for Formal Diversion and Dismissal