Felony Domestic Violence, Torrance, 2nd Time, No Jail
Our client, age 42, was charged with two counts of felony domestic violence for two separate incidents five months apart. Both involved her injuring her husband in anger at their apartment in Gardena. Both were preceded by the client becoming intoxicated and then arguing with her husband. In each incident, the argument became physical.
The problem for our client was that in 2002, she was convicted of felony domestic violence against her then boyfriend, but now husband, under similar alcohol-induced circumstances.
The Gist of This Summary: Our client, with a prior felony conviction for domestic violence, faced two new felony domestic violence charges in Torrance. Alcohol was a contributing factor in each case. The victim in all three incidents was her husband, an L.A. County Sheriff. The two most recent felony cases were resolved with no jail.
Her husband, age 40, was a Los Angeles County Sheriff, so what he told police about what happened was considered credible and extremely reliable. Moreover, he had visible injuries that substantiated what he described. He was about a foot taller than his wife and outweighed her by over 100 pounds.
In the first incident, our client began arguing with her husband and then, as he tried to separate himself from her, she tore off his shirt and scratched him across his chest, face and neck. Her husband did try to defend himself and she received scratches to her forearms.
In the second incident, our client scratched at her husband and bit him on his left arm, puncturing the skin. The wound bled, but the husband did not receive any stitches. After the second incident, the client was arrested by the Gardena Police Department and, after being denied own-recognizance release and not being granted a reduction in bail from $50,000 after 35 days in custody, posted bail.
The client decided to represent herself at first and the offer made to her was three years in state prison, as it was two events and she had a prior conviction for the same thing, although it was many years ago. The offer of three years in state prison was shocking to her and so she called Greg Hill & Associates.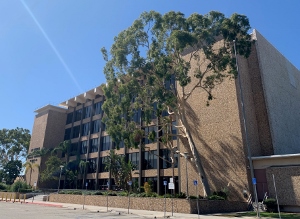 Torrance Superior Courthouse
The client and her husband described the case facts and what the offer was. Greg explained how a bite is often viewed as quite serious, much more so than a scratch or even a bruise.
Greg then substituted in for the public defender and reviewed the police report and discussed the case with the specially-assigned prosecutor.
Greg recommended that the client enroll in an approved batterer's program and begin attending Alcoholic Anonymous meetings twice per week. Greg explained that documentation of attending such a program and classes could help the prosecutor lower the offer and then the client might avoid prison.

The client, who had ambitions of becoming a registered nurse, was attending nursing school. Greg explained that such career goals might be very difficult to meet with multiple convictions for felony domestic violence, so attending such a program and classes was all-the-more critical.
Greg Hill & Associates then prepared a Defense Position Letter with a mitigation packet to the prosecutor, explaining the self-defense issues, as well as mutual combat elements of the offense, and how this was a case as much about alcohol abuse as it was about domestic violence.
Greg argued for a joint suspended sentence in which our client would be placed on probation with requirements that she not only attend a 52-session batterers program, but attend a year of AA meetings and wear a SCRAM device for a year to stay off alcohol.
The response from the prosecutor was good – a reduction in the custody time from three years in state prison to 180 days in county jail (with credit for 70 days) and a requirement that the client enroll in a one-year residential alcohol treatment program.
However, the client still did not like the offer, so the case proceeded to a preliminary hearing, at which time the husband testified.
At the conclusion of the preliminary hearing, Greg made a motion to reduce the case to a misdemeanor due to the minor nature of the injuries. While the judge denied this motion, he offered to allow our client to plea in the open on the following terms: to be on formal probation for 18 months, during which time she would attend the approved batterer's program and a one-year outpatient alcohol treatment program. If she successfully completed both, the judge would reduce the two charges to misdemeanors and the client would then otherwise remain on informal probation for the remaining 3.5 years.
This was an amazing offer. It was much better than even the prosecutor had offered and far, far better, obviously, than the three-year state prison first offered. Our client accepted the offer, very satisfied that she had retained Greg Hill & Associates to defend her and fight for her.
For more information about felony domestic violence and the issues in this case, please click on the following articles:
Contact us.