Extraditions
We are Greg Hill & Associates. If you or a family member want more information about extraditions, we can help you.
If you are reading this page, it may be because a loved one has been taken into custody and you were told that there is a bench warrant or arrest warrant for him or her from a court either far away, even outside California. You were told that the person is a "fugitive" and may be extradited to the other city or state, where a judge wants to see him or her.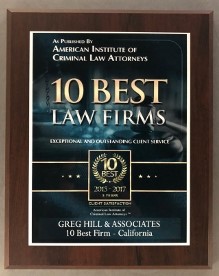 This may happen after landing in Los Angeles and trying to pass through customs from an international flight, or it can happen after a routine traffic stop on the streets of Los Angeles.
A million questions may flood your mind.

What is the warrant for? What if this is a case of mistaken identity?
What if the arrest was illegal?
What if the warrant is improper?
Can we post bail and then get ourselves to the other location on our own?
Can we just plea bargain the case out from California now?
How long (how many days maximum) can the police hold my husband, brother, son or daughter before they must let him or her go?
Is there a Sixth Amendment right to a speedy trial that applies as a defense to enforcing such a warrant?
What if the other state does not want to come to California to pick up my loved one?
How long does the other state have to come to pick up my loved one before California must let my loved one go?
Is a waiver of extradition from another state enforceable in California?
Should my loved one "waive extradition?" What does it mean to do so? What are the advantages of doing so? The disadvantages?
Can the warrant be for failure to pay child support or spousal support in another state?
California, or the county within California, is considered the "asylum state" or "asylum county" holding the "fugitive." Los Angeles County (or Orange County, San Bernardino County, or Riverside County) will then file a "fugitive complaint" against your loved one under Penal Code § 155 to begin the extradition process.
The arraignment (in Los Angeles County, most commonly in Department 30 of the Clara Shortridge Foltz building in Downtown Los Angeles at 210 West Temple Street, Los Angeles) on the complaint must take place within ten days of the arrest here. The arraignment is also called the Identity Hearing, wherein your loved one's attorney may choose to challenge the identity of the person being held as not matching the identity of the person sought for extradition and rendition back to the "demanding state." Sometimes, such an arraignment is held within 48 hours, or two days (not including holidays, Saturdays or Sundays).
Bail is then either allowed or denied according to the state or county seeking the fugitive. For obvious reasons, if bail was posted previously and the individual did not appear in court, it unlikely that the state or county seeking the fugitive will permit posting bail again.
Once the prisoner's identity is confirmed, the person is supposed to be moved to the "demanding state" on a governor's warrant from the "demanding state" within thirty days. This thirty-day period can be extended to sixty days, but if the person has been held for ninety days and the demanding state still has not come to pick him or her up, the prisoner must be released.
Clara Shortridge Foltz Criminal Justice Center
CCB Courthouse in Downtown Los Angeles


California's obligations upon finding out there is a fugitive in its custody are set for under the Agreement on Detainers (Penal Code §§ 1389-1389.8), also called the Interstate Agreement on Detainers. It is an interstate agreement that provides for the speedy transfer of prisoners from one jurisdiction to another jurisdiction that has criminal charges pending against the prisoner (or "fugitive"). Its function is to protect the Sixth Amendment speedy trial rights of both the prisoner and the prosecutor and to dispose of detainers to minimize disruption on the prisoner's rehabilitation.
Once a fugitive is ordered extradited back to another state, California follows the Interstate Compact for Adult Offender Supervision (Penal Code §§ 11180-11181), which provides an administrative procedure for the return of probationers and parolees who are under another state's supervision.
The warrant seeking extradition may have been issued under the Uniform Interstate Family Support Act (Family Code §§ 4900-5005), which provides a means by which a person may be compelled to abide by his or her support obligation set in another state, including involuntary removal to a state where he or she may be charged with criminal nonsupport.
If you or a family member need more information regarding extraditions, please call us today for a free 45 minute consultation. You will receive top quality representation for a reasonable fee. (310) 782-2500.

Contact us.