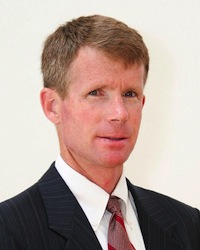 Greg T. Hill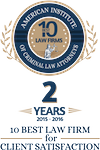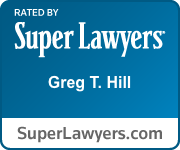 Greg Hill is a criminal defense attorney in his twentieth year of practice. He has successfully handled over 2,500 criminal cases ranging from murder to urinating in public, from as far away as Oakland to San Diego, both in state and federal court. He has represented other lawyers, CEO's of major companies to homeless veterans to juveniles as young as twelve years old.
Why Hire a Private Attorney? Why Not the Public Defender?

A large number of his cases involve the most common offenses, such as DUI, domestic violence and petty theft in Torrance, Long Beach, Compton and the LAX courthouse, however, he has defended others in less commonly seen offenses such as animal cruelty, embezzlement, prostitution (male and female), attempted murder, child abuse, sex offenses and check kiting in more distant courthouses. He approaches each case with gusto, as if he is defending a member of his family. He greatly enjoys his work. For a sampling of client testimonials about Greg and our firm, click here.
To Read Some of Our Over 950 Case Summaries,
please click here.

Greg is one of only a few U.S. Naval Academy graduates to pursue a career in law following his service to our country. While in the U.S. Marine Corps from 1987 to 1994 following his graduation from the Naval Academy (in Annapolis, Maryland), Greg served as a Second Lieutenant, then First Lieutenant and then Captain. He served in Operation Desert Storm, where he flew 35 combat missions over Iraq in the EA-6B Prowler, a jet. Greg had over 1,000 hours of flight time and was awarded three air medals during wartime. Greg traveled all over the world while in the Marines.
Greg believes it was this time in his life, as a leader of young men, that gives him an ability to understand his clients better than most other attorneys. He spent time with such young men, on deployment away from friends and family and came to understand not only them better, but himself quite a bit better. He came to appreciate that such young men, while perhaps not as educated as Greg, were often very intelligent, quite determined and usually, ambitious. They were just like him, but without the luxury of a formal education. Greg takes this respect for others into each case he now handles.
In college, Greg ran on the varsity cross-country, indoor track and outdoor track teams for all four years. He graduated with honors and later went on to earn a Master's degree in Business Administration from Boston University and a law degree from Loyola Law School, where he was Senior Articles Editor on the International Law Journal.
Greg volunteers his time as a judge pro-tem for the Los Angeles Superior Court and has served on the Los Angeles County Bar Association Legislative Review Committee for several years. He also volunteers time with his son's Boy Scout troop, Troop 783. Greg himself was an Eagle Scout. He has also enjoyed serving as a baseball, soccer and basketball coach for all three of his kids.
Lastly, Greg has volunteered for over ten years as a Blue and Gold Officer as a member of the U.S. Naval Academy's Admissions Board.
Why Hire Greg Hill & Associates? Why Not Hire Someone Else?

Greg has written over 1,300 published articles on various aspects of criminal law to help educate his clients (these are available on his website) and make them feel more comfortable knowing their rights and how the legal process works. Such articles are available on the firm website.

For a link to over 1,300 Criminal Defense Articles , click here.
He has also answered over 20,000 legal questions for free on Avvo, where he enjoys a top rating of 10.0. For a link to such answers and his profile, click here.
Education
J.D., Loyola Law School, 1998
Honor Graduate
MBA, Boston University, 1994
Honor Graduate
B.S., U.S. Naval Academy, 1987
Honor Graduate
Jurisdictions Admitted to Practice California, 1998
U.S. District Court for the 9th Circuit, 1998
U.S. Court of Appeals for the 9th Circuit, 1998

Bar Association & Professional Memberships
State Bar of California
Member Since: 1998
Inns of Court
Member Since: 2017
National College for DUI Defense
Member Since: 2015
Judge Pro-tem for Los Angeles Superior Court
Awards & Recognitions
Professional
Recognized as one of the Top 15 Criminal Defense Attorneys in the United States as featured in Newsweek.com
10 Best Law Firms by American Institute of Criminal Attorneys (2015, 2016, 2017)

Top 1% of Attorneys in Nation, as recognized by the National Association of Distinguished Counsel (2015, 2016, 2017)

Recognized as a Lifetime Member of the Best Attorneys in America, which is limited to only 100 Attorneys in California (2015 - Present)
Recognized as one of the Top 100 Trial Attorneys in the Nation by the National Trial Lawyers Association (2014, 2015, 2016, 2017)

10 Best Criminal Law Attorneys in California, American Institute of Criminal Law Attorneys (2015, 2016, 2017)

Recognized as one of the Top 100 Criminal Defense Attorneys in the State of California by the American Society of Legal Advocates (2016)

Recognized as one of the Top 100 DUI Attorneys in the State of California by the National Advocacy for DUI Defense, LLC (2016)

Avvo Rating 10 out of 10 (highest possible rating) (2015 to Present)

Trial Lawyer since 1998
Personal
Former Marine aviator with 35 combat missions over Iraq in Operation Desert Storm
Eagle Scout
Bicycled across the United States at age 16 in 26 days.

AYSO & Little League coach
Admissions Board, U.S. Naval Academy