Why Hire Greg Hill & Associates? Why Not Hire Someone Else?
There is probably nothing worse than not knowing if one is going to lose one's freedom or ability to earn a living. Going to jail or prison erases one's otherwise hard-earned reputation in the community, destroys families and can exacerbate mental illness. Losing one's job due to a conviction can likewise turn one's life upside down, financially and emotionally.
Facing such risks, why should one entrust Greg Hill & Associates with fighting the charges or seeking to minimize the punishment? Why not hire someone else? After all, there are many criminal defense attorneys, each touting his or her value.
In a Nutshell: One should hire Greg Hill & Associates because we consistently obtain good results for our clients, we are accessible almost 24/7, we work hard with a sense of urgency on every case, our fees are reasonable for our experience level and we truly care about each case.

The most important reason to hire Greg Hill & Associates is because, as many of our clients have told us, we are accessible. We often meet clients on weekends and after or before normal work hours. We answer the phone at all hours (the office line is forwarded to our cell phones after hours – we do not use an answering service!), we respond to e-mails, we have meetings that other attorneys avoid. If you need to ask us something or discuss something with us, we understand that patient, quality, empathetic communication is something that provides certainty and lowers stress. When your house is on fire, as the saying goes, you need to put it out immediately. We empathize with you. We understand this stress.
Second, we have a sense of urgency about resolving your case fairly or taking the matter to trial before a judge or jury. We hate to see a powerful government abuse its power. While this does not mean we are always aggressive, or "a bull in a china shop," we never forget the end result that is desired or possible.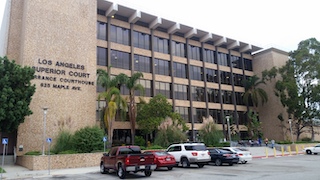 Torrance Courthouse
Our experience in handling criminal defense matters for over 40 years gives us an appreciation of what can go wrong, what we can do, what risks are involved in certain defense tactics and what is needed to get the best results. After all, we understand that our current clients are a potential source of referrals in the future, so we want to impress the client and his or her family with the best results. However, your identity is always confidential to others. We respect this.
.
Third, Greg Hill & Associates has a reputation in the courtroom for hard work, being prepared and knowing the law. We know that there are simply no shortcuts to being thorough and there is tremendous danger in not taking the time to do what needs to be done. Unlike many attorneys, we often go to the scene of the crime just to more fully understand what took place and how events unfolded. We review all the e-mails in the case, printed out, before each court appearance. We look over each video and/or listen to each 911 call, dispatch call or interview, no matter how long they may be (because the prosecutor may not!).
Since both Greg Hill and Alex Griggs grew up in the South Bay area and went to high school locally (and have kids in the local schools), we feel more accountable than other attorneys who lack roots in the local area. We never want to embarrass ourselves, our families or our clients.
In court, we know that being respectful even to the most impatient judge or rude prosecutor is critical. We know having an earnest demeanor, yet being savvy enough to push when appropriate and step back is vital for success. We "pick our battles," rather than stubbornly fighting everything. We value our relationships with judges and prosecutors, as we know that ultimately, this benefits the most important person, the client.
Knowing the law is something we particularly pride ourselves on. Greg Hill has answered over 20,000 questions for free on Avvo, earning him a points ranking that is third among thousands of other attorneys in criminal defense in the United States (yet Greg is second in the state of California). No other attorney in Torrance or Long Beach has answered even 400 such questions on Avvo. Greg also has written over 1,200 articles on various aspects of criminal law, recent appellate court, California Supreme Court or U.S. Supreme Court decisions. No other attorney in Torrance or Long Beach has even written 20 such articles. However, we know there is never a time to stop learning more law.
District attorneys often confide in Greg that they learned about a particular issue by reading Greg's article on some subject, posted on our website. Most of the knowledge gained, however, comes from simply being in court daily, occasionally going to trial, listening to the judge handling cases, speaking with other attorneys and yes, even learning things from our clients!
Lastly, we are affordable. Our fees are lower than our primary competitors in the local area, some of whom are far less experienced and less accomplished. We do offer payment plans on most cases. Yet our fees are not so low that we are forced to compromise our time spent on any one case.
For more information about criminal attorney topics, please click on the following articles:
Contact us.