Juvenile Crimes
We are Greg Hill & Associates
. If you are a juvenile (under the age of eighteen) or are the parent or grandparent of a juvenile arrested for any felony or misdemeanor, we can help you.
We understand how being charged with a crime can affect a juvenile's continued school attendance, self-esteem, chances of admittance to college, employment opportunities and eligibility to join the armed forces. We also appreciate how such charges can destroy a family and ruin reputations.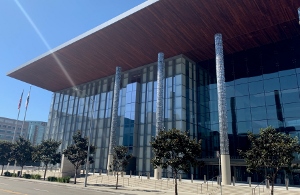 Governor George Deukmejian Courthouse in Long Beach
We have had a great deal of success in defending juveniles in Los Angeles, Riverside, San Bernardino, Ventura, Orange and San Diego Counties.
If you have been arrested for a juvenile offense, please call us today for a free 45 minute consultation. (310) 782-2500.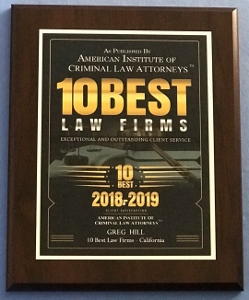 Facts About Juvenile Offenses

Juveniles (minors under the age of eighteen years of age) can be prosecuted for all of the same crimes for which adults can be prosecuted. Juvenile matters, however, are considered civil proceedings under California Welfare and Institutions Code § 203.

While legally civil in nature, such proceedings can result in a criminal record, including even a strike that will remain on one's record and will be used as a prior conviction in adult court (Penal Code § 1170.12(b)(3)).

Juvenile proceedings have their own rules and protocol that differ greatly from adult criminal cases. For example, juvenile cases are usually heard near where the child lives, rather than where the alleged crime happened. In juvenile matters, a child may be alleged to have committed several different crimes over time in different places, but he or she will just have one case number.

One of the most important differences is that in juvenile cases, the juvenile is not entitled to a trial by a jury. That means a judge, good or bad, will hear the evidence and render a verdict. It is crucial that your lawyer have experience litigating cases before juvenile judges, so that a particular juvenile judge can be challenged if your lawyer feels that he may rule against the minor in a biased or prejudiced manner.

Broadly speaking, all juvenile cases fall into either dependency or delinquency proceedings. Dependency proceedings are governed by Welfare and Institutions Code (WIC) § 300. Delinquency proceedings are governed by sections 602 to 800 of the WIC.

In Los Angeles County, all dependency cases are heard in one courthouse, Edelmann, and the focus in on the fault of the parents, not the juvenile. In delinquency cases, in contrast, the focus is on the conduct of the child and the cases are heard in many different courts. Our office has experience in the juvenile courts located in Inglewood, Eastlake, Downtown Los Angeles, Monterrey Park, San Fernando and Los Padrinos (Downey).

Although the goal of the juvenile justice system is to rehabilitate youthful offenders, probation officers, police, and prosecutors are as aggressive in their prosecution of juveniles as they are of adults.

Under a new California law, minors who are charged with certain violent crimes can be tried as adults without a hearing before a juvenile judge.

Your lawyer will need to know juvenile law thoroughly to competently represent the minor. Second, a minor can eligible for informal probation which means that if he complies with a probation officer's plan of supervision, the charges will be dismissed after the probationary period. Some of the more common informal probation programs are JOIN (Juvenile Offender Intervention Network), WIC 654.2, WIC 725, WIC 790, Home on Probation (HOP) and Community Detention Program (CDP).

Most parents are completely unaware that they can be held liable for monetary losses caused by crimes committed by their sons or daughters under California law.
| | |
| --- | --- |
| | Greg Hill & Associates Can Help You By: |
| 1 | Properly investigating the facts surrounding your child's case by hiring a professional investigator. This includes discussing the case with the client and thoroughly understanding what went on. |
| 2 | Researching potential legal defenses. Ignorance of the law, it must be noted here, is not a viable legal defense although the juvenile really may have, sadly, a fundamental misunderstanding or lack of knowledge of the law. |
| 3 | Aggressively negotiating your case, including contact with the detective of the arresting agency before the arraignment and later with the District Attorney assigned to the case. |
| 4 | If the case involves theft, immediately hiring an investigator to evaluate whether there are any other suspects to the theft and exploring restitution options. |
| 5 | Providing alternative sentencing such as hiring a psychologist to present favorable evidence as to why the crime may have been committed, such as addiction issues, family problems, depression or some other undiagnosed medical problem. This can include alcohol and drug treatment, counseling and anti theft classes rather than the juvenile being sent to camp. |
| | |
| --- | --- |
| | More Benefits To Selecting Greg Hill & Associates: |
| 6 | Available every day, every hour. 24-hour in-person answering. This also means we often visit recently arrested clients in jail, in an effort to calm down the client and speak to the handling detective and/or investigating officers at the station. |
| 7 | Over 45 years experience, hundreds of juvenile cases handled, a track record of success, over 100 criminal trials, tough negotiators and savvy enough to use their reputation and familiarity with local judges and district attorneys to your advantage. |
| 8 | Top quality services at reasonable rates. |
| 9 | Free first consultation. |
| 10 | All major credit cards accepted. |
| 11 | Immediate, courteous response. |
| 12 | Office near Torrance Courthouse with free parking. |

These are just a few of the reasons you need to hire a skillful and experienced lawyer knowledgeable in juvenile law to defend your son or daughter.
Your son's or daughter's freedom and criminal record are too important to entrust to an inexperienced attorney. We understand how such a record does affect college opportunities as well as employment options.

Greg Hill & Associates is one of Southern California's most experienced criminal defense law firms. With over 45 years of experience, Greg Hill & Associates has successfully defended hundreds of people in all areas of criminal law.
IF YOUR SON, DAUGHTER OR RELATIVE IS CHARGED WITH A JUVENILE CRIME, CONTACT OUR OFFICE FOR A FREE CONSULTATION ON HOW TO PREPARE A SUCCESSFUL DEFENSE IN JUVENILE COURT.