Violent Crimes
We are Greg Hill & Associates. If you or a family member have been arrested for attempted murder (Penal Code § 187 and § 664),murder (Penal Code § 187 and § 189 (First Degree Murder, Second Degree Murder)), voluntary manslaughter (Penal Code § 192(a)), involuntary manslaughter (Penal Code § 192(b)), carjacking (Penal Code § 215), mayhem (Penal Code § 203), criminal threats (Penal Code § 422, a wobbler), assault (Penal Code § 240), assaulting a police officer or resisting arrest (Penal Code § 69), battery (Penal Code § 242), arson (Penal Code § 451), kidnapping(Penal Code § 207), child abduction (Penal Code § 278) or child abuse (Penal Code § 273a), we can help you.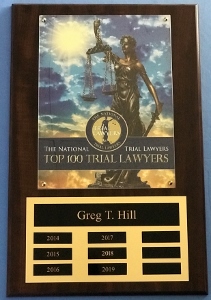 We understand how seriously District Attorneys and judges approach such cases, as such charges often are related to other criminal activity and mental illness issues. We also know that a conviction for a violent crime can result a life sentence, a sentence with significant enhancements (for example ten years if involved with a criminal street gang (Penal Code § 186.22)) and in deportation if one is not a U.S. citizen. We appreciate aggravating circumstances are often exaggerated, but not uncommon as well.
Over 50 Violent Crimes Case Result Summaries

We therefore defend such charges extremely aggressively, with thorough preparation early on and seek a plea bargain that eliminates such enhancements and immigration consequences. We always consider Pitchess motions to uncover police misconduct such as a history of excessive force, racial profiling, filing false police reports and coercing confessions. Depending on the charges, a motion to reduce felony charges to a misdemeanor is often an option. Lastly, depending on the client's criminal and personal history, a Romero motion to strike a strike conviction for purposes of sentencing can be an option.
Articles Related to Violent Crimes
Our Violent Crimes Testimonials
When there is significant damage, paying restitution to the victim(s) is often integral in the resolution of the case.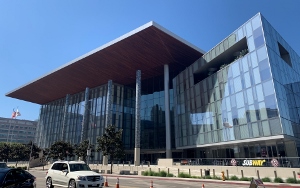 Governor George Deukmejian Courthouse
Long Beach Superior Courthouse
We have had a great deal of success in defending those charged with murder, attempted murder, kidnapping, carjacking, mayhem, criminal threats, assaulting a police officer, assault and child abuse in Los Angeles, Ventura, Riverside, San Bernardino, Orange and San Diego Counties. Please call us today for a free 45 minute consultation. (310) 782-2500.
If you or a family member has been arrested for a violent crime, please call us for a free 45 minute consultation. (310) 782-2500.
Violent Crime Facts
Violent crimes include

assault and battery, assault with a deadly weapon, child abuse, kidnapping, carjacking, manslaughter and murder. The more severe the injuries, if a firearm was used and the defendant's criminal history greatly affect the penalties. Sometimes, a minimum sentence of 80%, 85% or even the entire term is mandatory, depending upon the crime. Many of such crimes are classified as "strike" offenses.



The most serious violent crime is homicide. Murder, which is homicide, is the unlawful, unjustified, intentional killing of another person. Manslaughter, also a form of homicide, is the unlawful killing of another person without intent to kill.

There are differing degrees of homicides: First Degree Murder, Second Degree Murder, Voluntary Manslaughter and Involuntary Manslaughter. Penalties for homicide can range from life in prison to death for first degree murder to years in state prison for involuntary manslaughter. Factors such as the seriousness of injuries, whether or not a firearm was used in the commission of the crime and the criminal record of the accused will determine the potential sentence.

Assault with a deadly weapon, kidnapping, serious spousal abuse, robbery, carjacking, and sex crimes such as child molestation, rape and certain forms of child abuse often result in lengthy prison sentences.

If you are charged with a violent crime, it is best to promptly retain an experienced criminal defense attorney with experience and success in defending those accused of violent crimes.
| | |
| --- | --- |
| | Greg Hill & Associates Can Help You By: |
| 1 | Properly investigating the facts surrounding your case by hiring a professional investigator. It is critical to immediately interview the witnesses and potential defense witnesses before the police or prosecution has an opportunity to intimidate them. With good investigation, alibi witnesses, eyewitness identification problems and self defense issues can be firmly established. This will weaken the prosecution's case. |
| 2 | Researching potential legal defenses. This evaluation includes a discussion of the immigration consequences of a conviction for the charges alleged. |
| 3 | Aggressively negotiating your case. |
| 4 | Hiring a psychiatrist or psychologist to evaluate whether there are any mental defenses to the crimes charged. It is helpful in establishing these defenses to show that the perpetrator does not have a character trait for being violent or is suffering from a mental illness that mitigates the conduct. |
| 5 | Providing alternative sentencing such as hiring a psychologist to present favorable evidence as to why the crime may have been committed, such as addiction issues, family problems, depression or some other undiagnosed medical problem. This can include alcohol and drug treatment, counseling and classes. |
More Benefits To Selecting Greg Hill & Associates:
6

Available every day, every hour, 24-hour in-person answering

. This has resulted in our office visiting clients at the police station immediately after their arrest at 3:00 a.m. more than once.
7
Over

45 years of experience, hundreds of cases involving violence and weapons handled

, a track record of success, over 100 criminal trials, tough negotiators and savvy enough to use their familiarity with local judges and district attorneys to your advantage..
8
Top quality services at reasonable rates.
9
Free 45 minute consultation.
10
All major credit cards accepted.
11
Immediate, courteous response.
12
Office near Torrance Courthouse with free parking.
With over 45 years of experience, Greg Hill & Associates can help if you are charged with a violent crime. IF YOU ARE CHARGED WITH A VIOLENT CRIME, CONTACT OUR OFFICE TODAY FOR A FREE 45 MINUTE CONSULTATION ON HOW TO PREPARE A SUCCESSFUL DEFENSE. (310) 782-2500.