Reclassification of a Felony
We are Greg Hill & Associates. If you or a family member want to reclassify a felony as a misdemeanor, we can help you.

You may have been told or heard that a felony can be reduced to a misdemeanor. This is true for only certain felonies and only under certain circumstances. This article is meant to clear up to who, what, where, when, why and how's of this often-misunderstood concept and process.
After all, one with a felony record often faces an uphill battle in employment and may have lost a professional license (i.e. license real estate broker, doctor, attorney, dentist, etc). The person may also have lost his or her right to own or possess a firearm or ammunition.
Under Penal Code § 17(b) and its various numbered subparagraphs of section (b), a judge may reclassify a felony at certain stages of the case.

Not everyone is eligible for such relief. The conduct at issue by defendant must be, first and foremost, minor in nature. The person must have had a minor role in the crime. Moreover, the injuries or harm caused must be relatively minor and if restitution was ordered, defendant should have paid all restitution ordered to the victim. The defendant also usually has no prior history or very little prior criminal history and especially no prior history for the same type of offense. If defendant was sentenced, it is best if defendant served no time in custody or served just a small amount of time (less than 90 days, for example). Often, if defendant cooperated with police in their investigation, this can help in persuading the judge to reduce the felony to a misdemeanor. Often, lastly, defendant is young.
What crimes are eligible for reduction from a felony to a misdemeanor under Penal Code § 17(b)? The answer lies in reading the statute defining the punishment for the crime. It will state that "violation of this statute shall be punishable by imprisonment in the state prison for a period of . . . or in county jail for no more than one year . . ."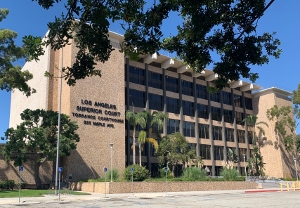 Torrance Superior Courthouse
However, many of our clients are unfamiliar with reading the Penal Code or the Health & Safety Code to discern this themselves. Consequently, we offer the following list is of some of the most common crimes that are eligible for reclassification from a felony to a misdemeanor:
Felony domestic violence ("spousal battery"), Penal Code § 273.5(a);
Felony DUI (Vehicle Code § 23153);
Felony assault by means of force likely to produce great bodily injury, Penal Code § 245(a)(4);
Felony assault with a deadly weapon other than a firearm, Penal Code § 245(a)(1);
Felony criminal threats ("terrorist threats"), Penal Code § 422;
Felony vehicular manslaughter, Penal Code §§ 192(c)(1) and (c)(2);
Felony sexual battery, Penal Code § 243.4;
Felony commercial burglary, Penal Code § 459;
Felony forgery, Penal Code § 470;
Felony grand theft, Penal Code § 487;
Felony stalking, Penal Code § 646.9;
Felony carrying a loaded firearm in public, Penal Code § 225850;
Felony child endangerment, Penal Code § 271;
Felony lewd acts with a child ages 14 or 15 when defendant is ten or more years older than the child, Penal Code § 288(c)(1);
Felony lewd acts with a dependent person, Penal Code § 288(c)(2); and
Felony assault with a firearm, Penal Code § 245(a)(2).

Reduction of a felony to a misdemeanor must be done at the courthouse where the case was filed, not where defendant lives. This is especially true after the case may have proceeded to a conviction and defendant completed probation, but now lives hundreds of miles away.

When can reduction be sought? It can be requested at the preliminary hearing, at sentencing or after probation ends, often when expungement is sought (on judicial council form FL-180). If seeking reduction after probation has ended, it is prudent to get a declaration from the alleged victim, if possible, stating whether he or she is in favor of reduction of the case to a misdemeanor.
If you or a family member would like to find out more information about reclassifying a felony to a misdemeanor, please call us today for a free 45 minute consultation. You will receive top quality representation for a reasonable fee. (310) 782-2500.