Federal Offenses
We are Greg Hill & Associates. If you, a family member or your company has been charged with copyright infringement, trademark infringement or federal drug offenses, we can help you.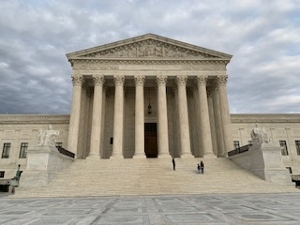 U.S. Supreme Court in Washington, D.C.
Unlike many criminal defense firms, Greg Hill & Associates has a history of defending those accused of civil copyright and trademark infringement in federal court across the country, so we have a broader understanding of the issues that can affect your defense. For a brief summary of cases handled by attorneys at Greg Hill & Associates, please refer to
"Representative Federal Cases Handled by Attorneys at Greg Hill & Associates"
.
With the enormous fines that attach to trademark and copyright infringement, as well as the government's usual goal of closing down your business and seizing your assets (quite often before the merits of the case are determined), you should not gamble with an inexperienced attorney in these matters.
We have had a great deal of success in defending those charged with federal crimes in United States District Court for the State of California, we can help you. Call us today for a free 45 minute consultation. (310) 782-2500.
Articles Related to Federal Offenses
If you or a family member have been arrested for a Federal Offense, please call us today for a free 45 minute consultation. You will receive top quality representation for a reasonable fee. (310) 782-2500.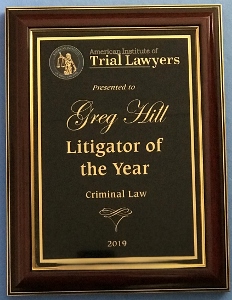 Facts About Federal Offenses

Trademark Infringement:

To state a cause of action for trademark infringement under the Lanham Act, 15 U.S.C. § 1141(a), the government must show four things: 1) that the victim owned a valid, registered trademark under 15 U.S.C. § 1116(d)(1)(B)(i); 2) that the infringing mark must be nearly identical to the authorized mark; 3) that the infringing product or service is listed in the federal trademark registration; and 4) that defendant's use of the mark is likely to cause confusion.

The "use" must be with an intent to deceive or confuse. Specifically, the government must show that defendant's use of a mark is likely to cause confusion as to the source of the goods or services. In determining whether a likelihood of confusion exists, courts employ either a five factor, six factor or an eight factor test.

Each of these tests consider: (1) the similarity of the marks, (2) the relatedness of the goods or services, (3) the strength of the registered mark, (4) the marketing channels used, (5) the degree of care likely to be exercised by the purchaser, (6) defendant's intent in selecting the mark, (7) evidence of actual confusion, and (8) the likelihood of expansion of product lines. Greg Hill & Associates is well-versed in each of these tests and the cases that have interpreted these factors.

One of the most common defenses that Greg Hill & Associates will consider for you is laches. This takes the form of alleging that the victim abandoned the exclusive rights to the trademark. It can bar both injunctive and monetary relief, such as defendant's gains and profits. Sometimes, the court will bar monetary relief, while nevertheless granting injunctive relief. Indeed, as one court stated, it would be inequitable for plaintiff to wait for defendant to build up its business and profits and later file suit and demand an accounting for profits. The most commonly recognized form of "building up one's business" is defendant's expenditure of large sums of money promoting the mark.

The mere passage of time, however, does not constitute laches. Defendant must show that the time passed lulled it into a false sense of security and that it acted in reliance thereon and thus it suffered prejudice, for this defense to be effective.

A second common, although less common, defense is "innocent use." To establish innocent use, a defendant has the burden to show that it (1) adopted the mark without actual or constructive knowledge of the victim's prior use of the mark; (2) used the mark before the victim filed its trademark registration; and (3) continuously used the mark after the victim filed its application.

There is no statute of limitations for federal trademark infringement or federal trademark dilution.



Copyright Infringement:


To allege a copyright violation cause of action, the government must show: 1) that the victim owned a copyright to certain material when an infringement occurs; 2) substantial similarity between the copyrighted work and the defendant's work; 3) defendant published the allegedly infringing work; and 4) the victim suffered damages.

The defenses to a charge of copyright infringement involve laches, as discussed above for trademark infringement, but with slight variations. "Substantial similarity" is another important defense that has an enormous amount of case law interpreting the boundaries of this term. Often, the defendant has modified the images or work, perhaps using a computer, arguably making the defendant's work dissimilar. Or the defendant may claim "independent creation" of the work. Greg Hill & Associates will help navigate you through the defenses that may or may not apply.

The statute of limitations for copyright infringement is three years (17 U.S.C. § 507(b)).



Federal Drug Charges:


Federal drug charges are very similar to state court drug charges. The difference between the two is largely in sentencing and pre-trial motions.

| | |
| --- | --- |
| | Greg Hill & Associates Can Help You By: |
| 1 | Properly investigating the facts surrounding your case by hiring a professional investigator or expert in copyright, trademark or interstate commerce issues. This may also include a motion to demand the court order the police to produce wire tap information. |
| 2 | Researching potential legal defenses. This evaluation includes a discussion of the immigration consequences of a conviction for the charges alleged. |
| 3 | Aggressively negotiating your case. |
| 4 | If the case involves corporate theft, immediately hiring an investigator to evaluate whether there are any other suspects to the theft. |
| 5 | Providing alternative sentencing such as, when appropriate, hiring a psychologist to present favorable evidence as to why the crime may have been committed, such as addiction issues, family problems, depression or some other undiagnosed medical problem. This can include alcohol and drug treatment, counseling and classes. |
| | |
| --- | --- |
| | More Benefits To Selecting Greg Hill & Associates: |
| 6 | Available every day, every hour 24-hour in-person answering. This availability has led to our office coming to the police station to where the Client is and speaking to the handling detective to win our Client's release. |
| 7 | Over 35 years experience, hundreds of federal cases handled, a track record of success, over 100 criminal trials, tough negotiators and savvy enough to use their familiarity with local judges and district attorneys to your advantage. |
| 8 | Top quality services at reasonable rates. |
| 9 | Free 45 minute consultation. |
| 10 | All major credit cards accepted. |
| 11 | Immediate, courteous response. |
| 12 | Office near Torrance Courthouse with free parking. |