Communities Served
We find that it can be extremely helpful to be familiar with the communities we serve. It is good to know which law enforcement agency patrols the area and their reputation. It is also valuable to know if the case will be referred to the city prosecutor, city attorney or district attorney as well – and then who specifically these individuals are. With some of these people, we have years of experience negotiating cases.
What is most valuable, we think, is that knowing the area that the arrest took place. If it is a store and shoplifting is alleged, we may know exactly where in the store to go to serve a Notice to Preserve Evidence to demand the store security films. We may be able to also tell the client what to expect as to whether such films will be produced. We may also know the format of the store, i.e. whether the aisles are narrow or wide and whether a loss prevention officer could have actually seen what they told our client after detaining him or her.
With DUI matters, we find that if we know the particular road where the traffic stop took place. We may know if it is curvy or well-lighted. For example, we have had clients stopped at night for unlawfully tinted windows at night in areas where there are no street lights (for example, in Palos Verdes Estates). When the officer is following our client's car before the traffic stop is initiated, this basis for the stop becomes highly suspect.
In other DUI contexts, our client may be stopped for speeding along a particular stretch of road. When the client tells us this, if we are familiar with the area, we may know that the stretch of road is marked by numerous traffic lights that are always sequenced so as to prevent speeding (i.e. Ocean Boulevard in Long Beach). We may also know the officer's claim of speeding is quite problematic.
We have also had clients pulled over for an unsafe "lane straddling," for example, which is a violation of Vehicle Code § 21658. However, if we know the area of the stop, we may immediately know that such a violation if impossible to commit if the road at issue, in that particular area, is only one lane in each direction (for example, in Manhattan Beach). This is so because to commit such a violation, there must be at least two lanes in each direction.
Similarly, if a police officer claims he made a traffic stop because he allegedly observed our client crossing over the center line, a violation of Vehicle Code § 21650, it is good to know the area of the roadway at issue. After all, there are six exceptions to the § 21650 and knowing the width of the roadway and the parking habits of the area residents (for example in Hermosa Beach) can cause us to be more aware of how such an exception may apply.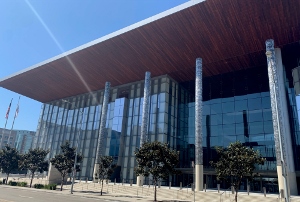 Governor George Deukmejian Courthouse in Long Beach
In the domestic violence context, knowing the community where the crime took place can be helpful. For example, if a couple is going through a nasty divorce and domestic violence is alleged, it is not uncommon for a cheating spouse to allege domestic violence to gain the upper hand in family court for child support payments or alimony. That spouse may claim that there was domestic violence and that a neighbor heard the commotion, leading to a call to local police. This recently happened in Rolling Hills, but we were well aware of the landscape of the area and how far most homes are separated. We found the claim of a neighbor calling to be suspicious, especially when the neighbor refused to identify himself and the nearest house was over 400 meters away.
This knowledge of the neighborhood helped us persuade the prosecutor to offer a dramatically better plea bargain to our client. Had our client been represented by someone unfamiliar with the local area, the call would not have been scrutinized for its credibility (we believe the bogus caller was the cheating wife's new lover, fabricating a call to cause the Lomita Sheriffs to respond to the location).
With that in mind, we present the following city profiles that are important to know in any case.

Carson, California
Compton, California
El Segundo, California
Gardena, California
Harbor City, California
Hawthorne, California
Hermosa Beach, California
Hollywood, California
Lomita, California
Long Beach, California
Manhattan Beach, California
Palos Verdes Estates, California
Rancho Dominguez, California
Rancho Palos Verdes, California
Redondo Beach, California
Rolling Hills, California
Rolling Hills Estates, California
San Pedro, California
Santa Monica, California
Torrance, California
Wilmington, California