Other Helpful Information
In the course of negotiating plea bargains, including dismissals, Greg Hill & Associates often suggests that its clients start classes or programs that the prosecution may require as a term of probation.
Enrolling in and completing a certain number of classes, or a program, before the case is resolved may be a smart thing to do on a personal level. Insofar as the plea bargain terms, it can also be an effective way of decreasing the punishment and therefore quickening the ultimate resolution of the case.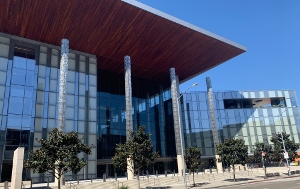 Governor George Deukmejian Courthouse in Long Beach
Indeed, one of the goals of punishment in our criminal justice system is preventing future similar conduct, so educating someone about the dangers of, for example alcohol, is often a term of probation in a plea bargain.
The following links to classes and programs are provided for this purpose. We caution that before one enrolls in any class or program, one should verify that the class or program is a court-approved class or program. Some classes and programs may have lost their approval over time.
It is also wise to reach an agreement with the prosecution that credit will be granted for classes attended or programs completed, even partially, prior to entering a plea bargain.
Please note all information provided is for reference only. Greg Hill & Associates does not endorse or recommend any specific website or courses offered. Please verify before signing up to complete any course that they are approved by your court.
Animal Cruelty
Bail & Release Contact Information
Bail Schedules: Information for Felony, Misdemeanors, and Infractions in Southern California Counties
Custody
Southern California Juvenile Camps

Domestic Violence

Drug Offenses

DUI
Judge Profiles and Court Directions

Juvenile Crimes

Law Enforcement Agencies


Looking for a Friend or Family Member in Custody
Sex Offenses
Theft / Robbery
Traffic Offenses
Violent Crimes
General Information
Contact us.