Rolling Hills Estates, California
Rolling Hills Estates is one of four cities on the Palos Verdes Peninsula. RHE, as Rolling Hills Estates is also known, is a community of mostly "ranch-style" homes, although RHE is also home to the Peninsula Center Shopping Center (including "The Avenue"), Peninsula High School and Chadwick, an expensive private school.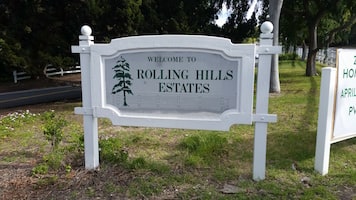 RHE has about 8,000 residents, approximately 70% of whom are Caucasian and 23% are Asian. Like its wealthier neighbor, Rolling Hills, Rolling Hills Estates is marked by numerous horse trails. RHE, however, is not a gated community like Rolling Hills. It does, however, attempt to project an upper class image, as it has a ban on drive-through restaurants and strict curfew laws.
The Lomita Sheriffs Department polices RHE. The main thoroughfares crossing RHE are Hawthorne Boulevard, Crenshaw Boulevard, Silver Spur Road and Palos Verdes Drive North.
Legal disputes arising in Rolling Hills Estates are heard in the Torrance Superior Court. Such cases, both criminal and civil, draw jurors from Torrance, Redondo Beach, Hermosa Beach, Manhattan Beach, El Segundo, Hawthorne, Lawndale, West Carson, Palos Verdes Estates, Rolling Hills, Lomita, parts of Harbor City and of course, Rolling Hills Estates. Our office does the majority of its work in the Torrance courthouse. We are experienced with all of the judges, almost all of the city prosecutors and almost all of the district attorneys. We like to think of the Torrance courthouse as our "home court."
Due to the Peninsula Center shopping area, RHE does see its fair share of shoplifting incidents, as well as auto burglary incidents. Our office has represented several individuals over the years accused of shoplifting at the various stores within the Peninsula Center. We have also represented a fair number of juveniles for offenses ranging from sales of a controlled substance on campus, speed contests, hit and run, felony vandalism, to criminal threats on campus, to battery of a parent, to DUI.
Our office has also represented a small number of clients in DUI and domestic violence in matters arising out of Rolling Hills Estates. The most common area where the Lomita Sheriffs have made traffic stops for DUI is Palos Verdes Drive North, which is actively patrolled at night.
If one is charged with a misdemeanor offense arising in Rolling Hills Estates, the case will have its first appearance, an arraignment, in Department 3 with Judge David K. Reinhert, on the second floor. If the case is not resolved in Department 3, the case will proceed for a pre-trial in Department 5 with Judge Amy Carter next door. The Torrance District Attorney's office will handle the prosecution of the case.
If one is charged with a felony out of RHE, the case begins with the arraignment on the second floor in Department 4. Judge Thomas Sokolov is the judge in 4. Candace Foy Smith is the calendar district attorney in 4, which means she handles the prosecution of any felony there that is not otherwise specially assigned to another prosecutor. This could happen in a domestic violence case, sex offense or serious felony such as murder.
The Torrance Courthouse has free parking in a large lot just north of the courthouse and adjoining the courthouse. There is also free parking along Maple Avenue.
The courthouse no longer has its cafeteria / coffee shop. In fact, it no longer even has any vending machines of any sort inside.
For more information about common cases that one might face if arrested in this city, click on the following articles: