Rancho Palos Verdes, California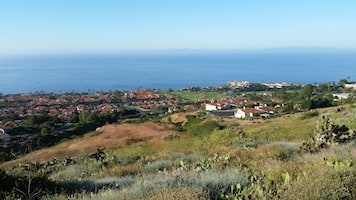 The largest of the four cities on "The Hill," or the Palos Verdes Peninsula, is Rancho Palos Verdes. This city, also known as "RPV," spans from the border of San Pedro to its south and east (along Western Avenue), along the Pacific Ocean Coast, to Palos Verdes Estates, Rolling Hills Estates and Rolling Hills. While less residential than Palos Verdes Estates, Rolling Hills and Rolling Hills Estates, Rancho Palos Verdes is predominantly residential.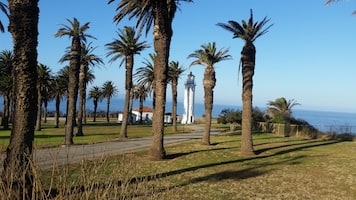 The City of Rancho Palos Verdes is patrolled by the Lomita Sheriff. This is a large, hilly area, encompassing the neighborhoods of Point Vicente, Portuguese Bend, Miraleste and Ridgecrest. The city has its own golf course. Los Verdes, as well as several parks such as Ryan Park and Hess Park that draw dozens of visitors from out of town each weekend.
The city has its share of large, expensive homes with remarkable ocean views, but also cramped apartment complexes and condominiums. Crime is higher in RPV than in its neighboring cities, with the exception of San Pedro. Its estimated 42,000 residents are largely Caucasian, although there is a recognizable number of Asians and a very small number of Hispanics and African Americans.
Legal disputes arising in Rancho Palos Verdes are heard in the Torrance Superior Court. Such cases, both criminal and civil, draw jurors from Torrance, Redondo Beach, Hermosa Beach, Manhattan Beach, El Segundo, Hawthorne, Lawndale, West Carson, Palos Verdes Estates, Rolling Hills, Rolling Hills Estates, Lomita, parts of Harbor City and of course, Rancho Palos Verdes. Our office does the majority of its work in the Torrance courthouse. We are experienced with all of the judges, almost all of the city prosecutors and almost all of the district attorneys. We like to think of the Torrance courthouse as our "home court."
Our office has defended many different crimes arising in Rancho Palos Verdes. We have defended shoplifting cases, both felony and misdemeanor DUI's, domestic violence matters, vandalism, underage possession of alcohol, drug possession, reckless driving and several joyriding cases involving juveniles.
The Lomita Sheriffs are responsible for patrolling Rancho Palos Verdes and enforcing its laws. The Lomita Sheriffs are generally very professional and respectful of those they arrest. Our office has made many trips to the Lomita Sheriff's office late at night and early in the morning to meet with clients being held there or recently arrested.
The Torrance District Attorney's office prosecutes both misdemeanors and felonies arising in RPV. Misdemeanor offenses have the arraignment in Department 3 with Judge David K. Reinhert, on the second floor of the Torrance Courthouse. If the case does not resolve in a plea bargain or dismissal there, the matter will be referred for further proceedings in Department 5 with Judge Amy Carter up on the fourth floor.
Felony cases start in Department 4 with Judge Thomas Sokolov. Department 4 is also on the second floor of the courthouse. The calendar district attorney in Department 4 is Candace Foy Smith. Most matters are handled by her, the exception being if the matter is specially assigned to a separate prosecutor due to the nature of the case, i.e. a sex offense, a domestic violence case or an especially complex case.
If the case does not resolve in Department 4, it is sent to Department 8 for a preliminary hearing with Judge Nicole Bershon. After the preliminary hearing, the case is randomly assigned to one of five judges in the Torrance courthouse.
The Torrance Courthouse has free parking to the north in a large parking lot that rarely fills up. One may also park along Maple Avenue.
The Torrance Courthouse no longer has a cafeteria. In fact, it now does not even have vending machines, so to get lunch or even a cup of coffee, one must venture out to the local stores that are over a quarter mile away.
For more information about common cases that one might face if arrested in this city, click on the following articles: