San Pedro, California
Sitting at the end of the Harbor Freeway, the end of the Vincent Thomas Bridge and the foot of the Palos Verdes Peninsula, San Pedro is a blue-collar harbor city with its own personality and history. Formerly a Navy port during World War I and II, San Pedro still is home to Fort McArthur, although the Navy has left.
The city is now known as a mostly Hispanic enclave populated by longshoremen, oil refinery workers and fishermen. Tourists come to San Pedro to see the Cabrillo Museum, Fort McArthur, the USS Iowa battleship, Point Fermin and Ports 'O Call. The city also has a large Croatian, Portuguese and distinctly Mexican population. Its cliffs along the west edge of town have been the backdrop to many movies. Its hilly streets have been filmed with car chases supposedly taking place in San Francisco.
San Pedro is marked by beautiful older homes, hilly streets and a fair amount of crime, especially near the apartment complexes and older, small homes off Gaffey and Pacific Avenues. Our office has handled a murder case out of San Pedro, as well as many cases involving assault with a deadly weapon, as well as sex offenses, drug offenses, domestic violence, shoplifting and DUI's. Prostitution used to be common in San Pedro, but it has waned over the years.
James Hahn, the former mayor of Los Angeles, grew up in San Pedro, as did former Boston Celtic Dennis Johnson and Robert Towne of the Godfather. Hollywood movie studios regularly film in San Pedro. We know of several judges, including federal judges, who live in San Pedro.
It merits mention that the area along Western Avenue is often patrolled by the Lomita Sheriffs, which have jurisdiction over the area west of Western, as it is part of Rancho Palos Verdes and subject to the jurisdiction of the Torrance Superior Court.
The area to the east of Western Avenue, including northbound Western, is San Pedro and patrolled by the Harbor Division of the Los Angeles Police Department. Cases arising in these areas are heard in the Long Beach Superior Court.
The Long Beach Superior Court draws jurors Long Beach, Palos Verdes Estates, Rancho Palos Verdes, Rolling Hills, Rolling Hills Estates, Signal Hill, Little Phnom Penh, Wilmington, parts of Harbor City and of course, San Pedro. Our office is experienced with all of the judges, almost all of the Los Angeles City Attorneys, Long Beach City Prosecutors and almost all of the district attorneys in Long Beach.
Civil cases arising in San Pedro are heard either in the Long Beach Superior Court or in the downtown Los Angeles Superior Court, depending upon the plaintiff's preference and the type of case.
Our office sees a great deal of DUI cases arising out of San Pedro, as well as domestic violence and cases for possession and possession for sale of a controlled substance.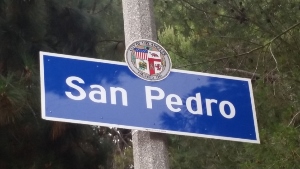 An arrest for DUI can start with a traffic stop by the CHP along the south end of the Harbor Freeway or by the Harbor Division of the LAPD anywhere in San Pedro. We have seen a great deal of arrests along Pacific Avenue and Gaffey. We have seen a high number of non-alcohol DUI cases, some felony DUI's, arising out of San Pedro.
Domestic violence matters can arise almost anywhere within San Pedro.
Most cases involving possession of methamphetamine, hashish, marijuana or cocaine begin with a traffic stop, perhaps for driving with expired registration, speeding or making an unsafe lane change. Drug cases can happen anywhere, but are often initiated with a traffic stop, usually based upon some Vehicle Code violation by a driver who the officer suspects may also be involved with a controlled substance (and then this hunch is validated). We have seen controlled buys take place in the Target along North Gaffey Street in San Pedro.
San Pedro does have several criminal street gangs, but the biggest by far is the Rancho San Pedro gang, which one police officer estimated at over 1,000 members. The gang is believed to have ties to the Mexican Mafia. The other notable gang is the Dodge City Crips, which has been relatively quiet over the last few years.
For more information about common cases that one might face if arrested in this city, click on the following articles:
Contact us.