Charged with Attempted Murder? Defenses? Punishment?
No other crime in California carries such a high penalty when the intent is unfulfilled. If one is charged with attempted murder (Penal Code §§ 664, 187), it is best to approach the case by looking from the finish line back to the starting line.
In other words, it is prudent to consider what a jury would be told are the elements of the crime. Knowing this, one can clearly understand what is considered for a conviction. The jury instruction (CALCRIM 600) for attempted murder requires that the defendant takes a direct step toward causing the death of a specific individual. This requires more than just mere planning or preparation. It shows that the person is "putting the plan into action. It shows a definite and unambiguous intent to kill. However, after taking that step, or while taking that step, "some circumstance outside the plan interrupts the plan" and prevents the defendant from fulfilling the plan to kill.
The Gist of this Article: Defending an attempted murder case can involve multiple defenses and the use of a competent investigator is often a necessity. The punishment for attempted murder can be life with the possibility of parole even before enhancements are added to the sentence.

A person can also be convicted of attempted murder if he or she abandons the plan short of the actual act of killing the intended target. If the nature of the abandonment of the plan is free and voluntary, however, a not guilty verdict can be awarded.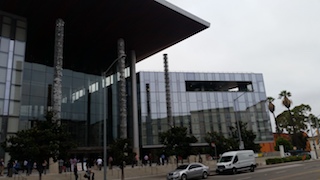 Long Beach Courthouse
The defenses to attempted murder are most commonly self-defense, mistaken identity, necessity and duress. Self-defense can be a valid, affirmative defense if the defendant "reasonably believes that he or she is in imminent danger of suffering bodily injury and that the immediate use of force was necessary to prevent such injury. The most important thing is that the amount of force used was no more than was necessary under the circumstances to defend oneself from the danger. This is set forth at CALCRIM 3470, the jury instruction on self-defense, and CALCRIM 505, the jury instruction on justifiable homicide when the person being protected is someone other than the defendant, i.e. someone being raped, maimed, robbed with force, etc.
Mistaken identity is certainly a defense, but a solid alibi is required and that will hopefully show defendant present in another location at the same time as the offense. Credible witnesses are helpful, as are private investigators to interview witnesses and gather recorded statements.
Defendant can also, obviously, argue that there was no "direct step" taken or that the defendant lacked the specific intent required to commit the murder.
The punishment for attempted first-degree murder (murder that it premeditated, willful and deliberate) is life in prison with the possibility of parole.
The punishment, in contrast, for attempted second degree murder (murder that is not premeditated, willful and deliberate) can be five, seven or nine years in state prison.
The sentence can have, and often does carry with it many possible sentencing enhancements (additions). These most commonly include use a firearm (two, three or four years enhancement), using a firearm under Penal Code § 12022.53 (ten years for just using it, twenty years for firing it and twenty-five years to life for firing it and causing death or bodily injury to another person), and a criminal street crime enhancement (ten years more, under Penal Code § 186.22).
Attempted murder can be alleged along with many other related offenses, as the reader most likely can appreciate. Assault with a deadly weapon (Penal Code § 245) can be charged, as well as mayhem (Penal Code § 203), shooting at an inhabited dwelling or an occupied car (Penal Code § 246), a drive-by-shooting (Penal Code § 26100), torture (Penal Code § 206), attempted voluntary manslaughter (Penal Code § 192(a)), domestic violence (Penal Code § 273.5) and soliciting someone to commit murder (Penal Code § 653f).
Lastly, it should not be overlooked that defendant may be ordered to pay significant restitution to the alleged victim, which can be medical expenses, lost wages and property damage. This amount can be quite high.
In conclusion, the reader must recognize that this very short article only scratches the surface of the crime and its defense. An experienced criminal defense attorney is an absolute must for anyone facing such serious charges.
For more information about murder, please click on the following articles:
Contact us.