What's Voluntary Manslaughter, the Punishment, the Defenses?
Whenever someone is suspected of murder or even arrested for murder, consideration must be given to whether there is any chance at all to resolve the case on other grounds that result in less punishment. One such alternative ground is if the prosecutor will agree to amend the complaint to allege voluntary manslaughter (Penal Code § 192(a)), a lesser included offense of murder. This might be due to facts that suggest a heat of passion / sudden quarrel / provocation situation or imperfect self-defense.
Brief Synopsis: The minimum punishment for voluntary manslaughter is three years in state prison; the maximum punishment is eleven years. Voluntary manslaughter is usually negotiated down from a charge of second-degree murder.

Heat of passion is a term that covers facts wherein defendant kills someone because of a sudden quarrel or in the heat of passion if defendant was provoked, then as an immediate result of the provocation, acted rashly and under the influence of intense emotion that obscured his reasoning or judgement; and the provocation would have caused a person of average disposition to act rashly and without due deliberation, "that is, from passion rather than from judgment."
Heat of passion does not require, but it often involves, rage, anger or jealousy. Slight or remote provocation is not sufficient, but sufficient provocation can take place over a short or long period of time.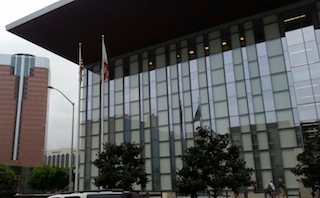 Long Beach Courthouse
Jurors struggle with this concept because, on one hand, a violent person with volatile temperament is not allowed to simply set up his own standard of conduct and avoid a conviction for murder. The provocation must be enough that a person of average judgement and emotional stability would have been similarly provoked. If the time that passes between the provocation and the killing is enough for an average person to "cool off," the killing is not reduced to voluntary manslaughter.
In
People v. Breverman
(1998) 19 Cal.4th 142, 163-164 [77 Cal. Rptr.2d 870, 960 P.2d 1094], for example, there was sufficient evidence of provocation when a mob of young men trespassed onto defendant's yard and attacked defendant's car with weapons. Mere vandalism of a vehicle, however, is insufficient for provocation.
Breverman
, at 164, fn. 11.
Verbal taunts by an unfaithful wife can be sufficient provocation, however.
People v. Berry
(1976) 18 Cal.3d 509, 515 [134 Cal.Rptr. 415, 556 P.2d 777].
Provocation can also arise sufficiently upon discovering the infidelity of a lover.
People v. Borchers
(1958) 50 Cal.2d 321, 328-329 [325 P.2d 97].
Name calling, smirking, staring or looking at someone stone-faced has been found is insufficient provocation.
People v. Lucas
(1997) 55 Cal.App.4th 721, 739 [64 Cal.Rptr.2d 282]. Insulting words or gestures are also insufficient.
People v. Odell David Dixon
(1961) 192 Cal.App.2d 88, 91 [13 Cal.Rptr. 277]. A long history of ridicule, criticism and reproach not sufficient when victim had not seen the victim for two weeks prior to the killing was also insufficient.
People v. Kanawyer
(2003) 113 Cal.App.4th 1233, 1246-1247 [7 Cal.Rptr.3d 401].
Someone cannot claim heat of passion if he or she is the initial aggressor, i.e. the one who provokes a physical encounter by a rude challenge to another person to fight.
People v. Johnston
(2003) 113 Cal.App.4th 1299, 1303, 1312-1313 [7 Cal.Rptr.3d 161].
Imperfect self-defense involves killing another person while trying to defend oneself or another person. Complete self-defense is an absolute defense, but imperfect self-defense is not because the person using imperfect self-defense may not have had a reasonable belief in the need to use deadly force.
To act in imperfect self-defense, the defendant must actually believe that he or she, or another person, was in imminent danger of being killed or suffering great bodily injury. Belief in future harm is insufficient – it must be imminent. Great bodily injury in this context means significant or substantial physical injury.
Defendant next must actually believe that the immediate use of deadly force was necessary to defend against the danger. For such a defense to be considered "imperfect," one of the beliefs must be unreasonable.
The jury is permitted to consider all the circumstances as they were known or appeared to defendant. Evidence relating to battered woman's syndrome may be considered by a jury when deciding if the fear was reasonable and actual fear.
People v. Humphrey
(1996) 13 Cal.4th 1073, 1082-1089 [56 Cal.Rptr.2d 142, 921 P.2d 1].
Imperfect self-defense does not apply to felony murder to negate malice.
People v. Tabios
(1998) 67 Cal.App.4th 1, 6-9 [78 Cal.Rptr.2d 753].
Interestingly, the reasonable person standard is not modified by evidence of defendant's mental impairment.
People v. Jefferson
(2004) 119 Cal.App.4th 508, 519 [14 Cal.Rptr.3d 473]. The law holds 'the mentally deranged or insane defendant accountable for his negligence as if the person were a normal, prudent person.'
Prosser & Keeton
, Torts (5th Ed. 1984) § 32, p. 177.
For more information about manslaughter, please click on the following articles:
Contact us.