When Can Judge Reduce a Felony to a Misdemeanor (PC 17(b))?
Under Penal Code § 17(b)(5), a so-called "wobbler" offense may be changed by a judge from a felony to a misdemeanor. This provision is often misunderstood to be available at all times, but it is not, as the following case summary exemplifies.
It should be noted that Proposition 47, which applies to a very limited number of specified felonies under the Health and Safety Code (simple possession offenses) and the Penal Code (generally thefts involving less than $950 and forgery), is a completely separate provision and will not be addressed in this case summary.
Brief Synopsis: Penal Code § 17(b) allows a judge discretion to reclassify a felony to a misdemeanor based on the facts of the case. The judge's scope of analysis is supposed to be extremely narrow, i. e., not so broad as to take into consideration defendant's prior criminal history, although if defendant has none, defense counsel should bring this to the judge's attention.

In 2010, the Board of Equalization conducted a civil audit of a corporation owned by Alireza Jalalipour. Mr. Jalalipour, through his corporation, owned and operated twelve Subway restaurants. Between 2004 and 2009, he under-reported the collected sales tax, the Board found, by about 75 percent. The Board estimated his unpaid tax liability was almost $1,400,000.
In February, 2013, the District Attorney filed a felony complaint charging Jalalipour with six counts of tax evasion (Revenue and Tax Code §§7152 (a) and 7153.5 and one count of grand theft (Penal Code § 487 (a)). The complaint also alleged that Jalalipour committed two or more alleged felonies of fraud (Penal Code § 186.11(a)(2)), took property in an amount exceeding $1,300,000 (Penal Code § 12022.6(a)(3)) and funds exceeding $100,000 (Penal Code § 1203.045). The case was filed in the Orange County Superior Count.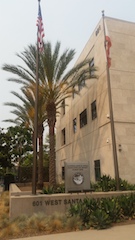 4th Appellate District Court of Appeal Santa Ana
Jalalipour's attorney then met in chambers with Judge Fitzgerald and asked the judge to reduce all the crimes to misdemeanors under Penal Code § 17(b). The Court asked counsel for Jalalipour to file a written motion requesting this, commenting that if Jalalipour would plead guilty, he would be inclined to grant the motion.
The reason Jalalipour sought this, besides the general consequences associated with being a convicted felon, was because the contract between Subway and him specified that if he was convicted of a felony, he would lose all his stores, which was the sole source of his income for his family and two children.
The People opposed the Motion under Penal Code § 17(b), citing to
People v. Silva
(1995) 36 Cal. App. 4th 231, that once a court issues a bind over order at a preliminary hearing, it loses jurisdiction to reduce the charges to misdemeanors prior to adjudication. In other words, Jalalipour had to first plead to a felony and then the court can, in its sentencing discretion, reduce it to a misdemeanor.
The judge, however, simply granted the motion despite the People's citation to
Silva
. Jalalipour then entered pleas to all misdemeanors. The court then placed Jalalipour on three years of summary probation with no time in custody.
The People then appealed the order of the trial court granting the motion to reduce the felony charges to misdemeanors. The appeal was filed in the Fourth Appellate District Court of Appeal.
The Court of Appeal agreed with the People that the trial court lacked authority to reduce the charges to a misdemeanor post preliminary hearing. Moreover, the court of appeal found that the trial judge engaged in unlawful judicial plea bargaining.
As to the unlawful judicial plea bargaining, the appellate court noted that when a court offers a defendant more lenient treatment or another inducement to enter a guilty plea, it engaging in unlawful plea bargaining.
People v. Clancey
(2013) 56 Cal. 4th 562, at 575. An indicated sentence, in contrast, is not illegal, as it is not a promise. However, in Jalalipour's case, the court went beyond merely promising to reduce his charges to misdemeanors: the court did so to before even taking his plea.
The appellate court then issued a peremptory writ of mandate to set aside the guilty pleas and reinstate the information against him.

The citation for the Fourth Appellate District Court ruling discussed above is People v. Superior Court (Jalalipour) (4th App. Dist., 2015) 232 Cal.App.4th 1199.

For more information about the issues in this article, click on the following articles:
Contact us.