Torrance, Alleged Rape and Domestic Violence, PC 415
Our client was arrested by the Torrance Police Department on 1) one count of violating Penal Code section 273.5(a), corporal injury on a spouse, a felony; 2) one count of violating Penal Code section 243(e)(1), battery on a spouse causing serious harm, a misdemeanor; 3) one count of violating Penal Code section 242, battery, a misdemeanor; and 4) one charge of violating Penal Code section 166(a)(4), willful disobedience of a protective order, a misdemeanor. It was a serious case due to the felony arrest, but one that certainly suggested prosecutorial "overcharging" may be at issue, too.
In 50 Words or Less: Torrance, alleged rape and domestic violence, negotiated to disturbing the peace (Penal Code § 415(2)).

The alleged victim, who legally separated from our client after the supposed incident, alleged that he physically abused her and threatened to kill her several times if she called the police. Ten days after first calling the police about the incident, apparently because she did not see her husband arrested or any police activity, she called the police again and claimed that our client also raped her. She then refused to submit to a rape kit test. The refusal to submit to a rape kit test strongly suggested she was claiming rape only to ensure a police response that was denied her in her prior complaint to police.
Before being arrested, the police contacted him and told him of his ex-wife's claims. Our client was outraged because he never once touched his ex-wife in anger. The victim's Green Card was close to expiring, so it seemed probable that she would fabricate domestic violence charges to seek preferred status in her application to permanently reside in the U.S. This is a well-known, common tactic that even prosecutors grudgingly concede is sadly typical of someone about to be deported.
Unfortunately, this case was about the twentieth such case we had seen involving someone seeking permanent residence status claiming domestic violence at the same time, usually in the midst of a divorce (and we have seen many more since this case). While some such cases are certainly righteous and the claims are truthful, many are fabricated and obviously lies by the alleged victim with an ulterior purpose.
Our client contacted Greg Hill & Associates when he was contacted by a skeptical police officer, advising him that his former wife was accusing him of rape. The police officer suspected that the allegation of rape was fabricated, but he wanted to discuss the allegations with our client to be sure, as it was a serious. This made our client concerned enough to hire defense counsel.
Greg Hill of Greg Hill and Associates met with the client and discussed the facts before our client was to meet with the Torrance Police detective assigned to the case. Sadly, however, before the client could tell the police that he wanted to meet the detective with Greg present, the detective came to our client's apartment and arrested him. This happened about an hour after the client left Greg's office.
The client then promptly posted bail and was released.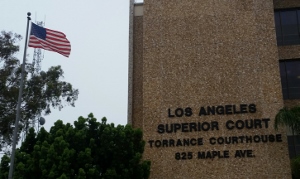 Torrance Superior Courthouse
Despite this turn of events, Greg then wrote several letters to the Torrance City Prosecutor and the Torrance District Attorney about the contradictions and credibility issues in the case. Greg wrote to each in an abundance of caution because, at the time, he did not know if the case would be filed as a misdemeanor or a felony. Indeed, the former wife had a history of drug abuse and even had a criminal history for shoplifting, so her credibility was suspect.
His efforts were successful, as he was able to get the District Attorney to pass on filing felony charges.
The Torrance City Prosecutor did file a case, but without the violation of a protective order charge. She did allege the battery charge (Penal Code section 243(e)(1)) only.
However, over a few months of hearings, the case was resolved with our client pleading to a violation only of Penal Code section 415, disturbing the peace, a misdemeanor. Lastly, Greg Hill was able to have the 52-week batterer program reduced to 13 weeks for our client (something that is very rare). The judge promised our client that upon successful completion of the program and fines, his criminal record in this case would be expunged.
Had our client fought his case at trial and been found guilty of violating Penal Code § 243(e)(1), he faced a maximum of one year in county jail.
For more information about the issues in this case, click on the following articles:
Watch our Video about Domestic Violence by clicking
here
.
Contact us.