Torrance, Domestic Violence with Knives, Plea to 242
Our client, age 51, had no criminal history of any sort. She was an artist and worked full-time at a local media company. She and her husband had been married 24 years with no prior incidents of domestic violence.
However, her husband recently changed jobs and suddenly began having business trips that required him to often spend several days on the road away from home. This was tough for our client, who had not experienced this before. The couple had also moved to Southern California from the East Coast, so they were unfamiliar with the local area and our client had few friends.
Why This Summary Matters: Client, age 51, allegedly punches husband in his back and then attacks him with large kitchen knives in Torrance. The husband runs out of the house. Case resolved for simple battery, not domestic violence.

However, being in sunny Southern California was a welcome relief and the client stopped taking her seasonal affective disorder medicine. She believed it was no longer necessary and her doctor also adjusted her other medications for emotional stability.
Making matters worse, our client's mom passed away and our client was responsible for much of the estate matters. This was a very stressful time communicating with family members from all over the world. When things could not seem to get any worse, the funeral home accidentally cremated our client's mother.
Two days later, our client's husband told her that he again needed to travel for work and would be in another city for a few days. Our client exploded, punching her husband in the back. She then walked further into the kitchen, grabbing two eight to ten-inch butcher knives from the kitchen's butcher block. She pulled the knives out of the butcher block and held one in each hand, turning toward her husband, saying, "Tell me what is going on!"
Our client's husband, already five to ten feet away, ran out of the house and called 911. He told the Torrance Police Department dispatcher that his wife had pulled two knives on him and threatened to kill him. He then got in his car and drove away.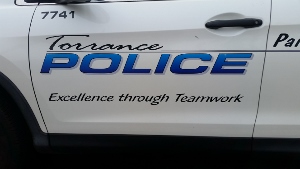 Police arrived at the house as our client, too, was getting in her car to leave the house. Police stopped her in her garage, as she was sitting behind the wheel of her parked car.
The client was immediately arrested and taken to the Torrance Police Department, where she was booked and held for several hours before her husband posted bail to release her.
The client then called Greg Hill & Associates and discussed her case. The client's husband also called Greg and discussed the facts. Greg answered their questions about how such cases are handled in the Torrance Courthouse and recommended that the client immediately enroll in a court-approved batterers' program, which she did.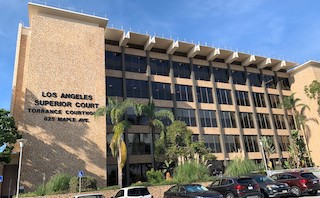 Torrance Courthouse
At the arraignment, Greg was handed the complaint, which charged the client with five misdemeanor charges: 1) criminal threats (Penal Code § 422); 2) brandishing a weapon (Penal Code § 417); 3) domestic violence (Penal Code § 273.5); 4) battery upon a co-habitant or spouse (Penal Code § 243(e)(1)); and 5) simple battery (Penal Code § 242).
The initial offer of a plea bargain from the Torrance City Prosecutor was a plea to brandishing a weapon and domestic violence, with 36 months of summary probation, contingent upon serving 60 days in county jail, attending 52 batterers' program classes, paying $300 in court fines and fees (total of about $1,050), making a $500 contribution to a domestic violence assistance fund and a protective order to stay away from her husband.
Greg then prepared a Defense Position Letter with a Mitigation Packet, composed of our client's resume, progress in the batterers' program classes, samples of her artwork and declaration from her husband as to the true facts of the case.
The Torrance City Prosecutor kindly agreed to dismiss all charges except the battery charge and allowed our client to enter a plea with no jail time, but otherwise on the same terms originally proposed.
The client was extremely relieved to avoid jail and the stigma that a conviction for brandishing a weapon and domestic violence might create.
Contact us.