Gardena, Girlfriend Uses Car to Drive into Boyfriend
Our client, age 32, and her boyfriend, age 35, had a fight when each accused the other of being unfaithful. Our client was looking at the cell phone of her boyfriend and saw a series of text messages to another female that suggested he enjoyed working out at a gym with her.
Her boyfriend also looked at our client's phone and saw e-mails from her to co-workers that he interpreted as being flirtatious and indicating she was having an affair.
Summary: Gardena, client drives car into boyfriend, then wrestles with him, squeezing his testicles to cause him pain, resolved for simple battery.

Our client allegedly threw an air freshener at her boyfriend without any response. It was a very light piece of plastic and just bounced off him. He did not even respond. She later wrestled with him on the floor of their condominium, eventually ending the fight when she grabbed and squeezed his testicles. The boyfriend then announced he was going to sleep and in response, our client stated she was going to leave for a while.
She then grabbed the keys to her boyfriend's car and backed out of the driveway. Her boyfriend looked out the window and, in his underpants and without any shirt on, ran out to stop our client. He was a big guy, perhaps six feet fall and 400 pounds, so this was likely to certainly catch the attention of anyone watching this. To stop the car, he jumped on the hood and started yelling. This was at 1:00 a.m. The ruckus was such that a neighbor looked out the window and called the Gardena Police. This neighbor then told the police that our client did not stop until she drove about ten feet with her boyfriend on the hood.
The Gardena Police arrested our client and recommended charges of felony domestic violence be filed. Our client was terrified, as she had no prior record and was mindful of the sixteen months minimum prison term.
She was also extremely worried about having a felony on her record because she was a licensed social worker for the County of Los Angeles.
Greg Hill of our office immediately contacted the Torrance District Attorney handling the case, as well as the Gardena Police Department, explaining that the case was a minor case certainly not deserving of a felony level charge. The case was filed as a misdemeanor domestic violence case.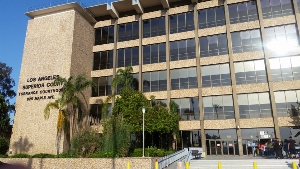 Torrance Superior Courthouse
Greg Hill continued negotiating with the District Attorney, explaining the mutual combat and self defense issues present in the case, while trying to keep the District Attorney from amending the complaint to add a charge of assault with a deadly weapon (her boyfriend's car) or even unlawful driving of a vehicle (Vehicle Code § 10851).
Eventually, in meeting with the District Attorney's supervisor and further negotiation, our office was able to get the misdemeanor domestic violence charge dismissed, but as part of a plea bargain, our client was allowed to plead to misdemeanor battery instead (Penal Code § 242). This amended charge, battery, carried with it far less stigma than a domestic violence charge and would not be counted as a priorable offense if our client is ever charged with domestic violence in the future.
Our client accepted the plea bargain offer, mindful that she could have the conviction expunged once her probation ended or if she had it terminated early once she completed all terms less the passage of three years.
For more information about domestic violence in general, click on the following articles:
Will the Prosecutor Dismiss the Domestic Violence Case If the Victim Will Not Testify or Appear at Trial?
Watch our Video about Domestic Violence by clicking
here
.
Contact us
.