Manhattan Beach, Wife Strangled, Deferred Entry of Judgement, Dismissal
Our client, age 35, was charged in the Torrance Superior Court with misdemeanor domestic violence (Penal Code § 273.5) arising out of an incident where his wife claimed he and she were fighting and he hit her.
Naturally, our client was also battered and in fact had many pictures of blood and scratches to his face. Our client's wife claimed a bruise to her neck was from our client strangling her, but this bruise was suspect, as it was accompanied by scratches that she could not explain (she was wearing a turtleneck sweater at the time of the alleged incident).
In a Nutshell: Manhattan Beach, client allegedly strangled his wife, but Greg Hill & Associates successfully attacks her credibility, deferred entry of judgement and dismissal.

Our client first opted to use the public defender, but was disappointed with his enthusiasm and urging our client to take a plea immediately. According to our client, the public defender did not listen to our client at all. Our client then hired Greg Hill & Associates.
The first order of business was to have the protective order immediately modified to Level 2, or to ensure "peaceful coexistence" and bar "harassment only." After all, our client needed to get back in the family home simply for a place to live. Greg Hill appeared in court the very next day with the client and his wife. The wife was keen to have our client back home, as the couple had a young child and she needed help supervising the child and managing household duties. She did not want to live the life of a single mom.
However, once the wife stepped into court, she realized she might be arrested and prosecuted for perjury. She panicked, but it ironically worked out for our client. Indeed, this is where the prosecution case fell apart, as the District Attorney asked to speak to the wife prior to agreeing to have the protective order modified. During this meeting, the wife exaggerated so much and flat out lied in such a manner that her credibility became the biggest issue of the case.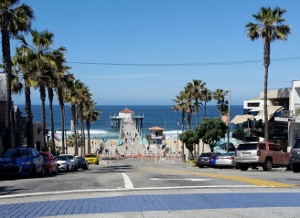 Manhattan Beach Pier
The District Attorney recognized this immediately and stipulated to have the protective order modified. She knew the wife would be a difficult witness at trial, were the case to proceed to trial.
Greg Hill then wrote a Defense Position Letter, documenting the wife's long history of violence, hot temper manifesting itself in violent episodes and her uncanny ability to impeach herself as she did in meeting with the District Attorney on the protective order modification. Greg Hill argued that such facts suggested she would be a poor witness at trial, as the District Attorney already understood. Greg Hill also laid out California law on mutual combat and self-defense, while showing the District Attorney examples of the client's good character and reputation. Greg Hill argued for a dismissal in negotiations.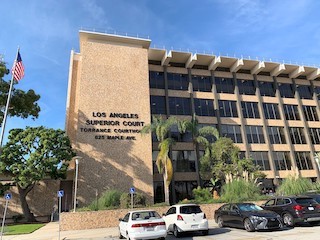 Torrance Courthouse
After many months of further plea bargain negotiations and court appearances, the District Attorney finally agreed to allow our client to enter a plea bargain to a lesser charge, simple battery (Penal Code § 242), and dismiss the domestic violence charge.
In addition, the District Attorney agreed to delayed entry of judgment (DEJ), wherein he would not be sentenced when he entered his plea. Instead, our client would be allowed to withdraw his plea in a year if he completed 52 batterers classes, paid fines to the court and made a $400 donation to a battered women's shelter (this amount has since increased to $500). While it was not the immediate dismissal of the case, it was an opportunity for a dismissal and the client agreed to the deal proposed.
Had our client rejected the deal, proceeded to trial and lost, he faced a criminal record with a conviction for domestic violence, as well as a maximum of one year in jail and $1,000 in fines. This was unacceptable in light of his career goals and having a young child who he wanted to spend time with as she grew up.
For more information about delayed entry of judgement, bail, and domestic violence in general, click on the following articles:
Watch our Video about Domestic Violence by clicking
here
.
Contact us
.