Redondo Beach, Felony Case Negotiated to Misdemeanor PC 242
Our client and his wife had an argument involving his drinking and the wife's sister, who always seemed to hang out at the couple's home and try to give marital advice. The argument reached the point that the wife decided to simply take a walk to cool down. Our client was drinking quite a bit at the time.
As the wife reached for the door to leave, our client grabbed his wife's arm to prevent her from opening the door. The wife then called the Redondo Beach Police, who arrested our client for felony domestic violence (Penal Code § 273.5). The wife had a significant and visible bruise to her upper arm, but nothing more.
Summary: Redondo Beach, bail reduced and felony domestic violence case negotiated to misdemeanor battery (Penal Code § 242) only.

The Redondo Beach Police had responded to the home in the past for one incident allegedly involving domestic violence, but no charges were filed in that case, which was about six weeks earlier.
On this case, however, the Redondo Beach Police set bail at $50,000, which our client was unable to afford a bond for to secure his release. While in jail, our client then suffered a seizure and spent several days in a coma, prompting his being taken to a hospital. The seizure was apparently related to his drinking.
When the client's wife contacted us, we immediately contacted the Redondo Beach City Prosecutor's office to find out why the case was being filed as a felony. Our contact seemed to help, as the City Attorney agreed the case was misdemeanor in nature, not felony.
At the arraignment two days later, we then filed a written motion to reduce bail, which the Court granted. The bail was reduced from $50,000 to $20,000, which allowed our client to bail out. This was quite a break for our client, as he needed to get to work.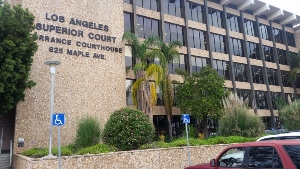 Torrance Superior Courthouse
At the first pre-trial conference, Greg Hill from our office negotiated with the Redondo Beach City Prosecutor for several hours, eventually persuading her to amend the complaint to simple battery (Penal Code § 242), as mutual combat was involved and the client's wife recanted her story told to the police.
Our client was happy to accept the plea bargain, as his employment would be imperiled with a domestic violence charge, but less endangered with a straight battery charge. The plea terms involved a $400 contribution to a victims of domestic violence fund (mandatory under California (this rose to $500 in 2014)) and 52 weeks of the "batterer's program" required in all cases of spousal abuse.
The booking fee, as well as all fines and community service (five days is mandated under the Penal Code, but often not imposed), were waived by virtue of our client's 17 days in custody.
The case was resolved at the first pre-trial conference and Greg Hill & Associates returned a significant amount of the retainer to the Client, since the case resolved so quickly. There were only two appearances in court, which is far less than usual. Moreover, the client agreed to make all progress hearing appearances on his own.
For more information about the difference between a felony and a misdemeanor, bail and domestic violence in general, click on the following articles:
Watch our Video about Domestic Violence by clicking
here
.
Contact us
.