Seal Court Records &/or Arrest Records and Petitions for Factual Innocence Case Results
If you want to read about our results in filed petitions to seal an arrest record and the court file and/or petitions for factual innocence, please click on the case summaries below to read a detailed description of each case.

What the following results do not show or reflect are the perhaps ten to fifteen other petitions for factual innocence we filed for clients, only to withdraw such petitions when it became clear that the judge would likely deny such a petition and, if such a ruling were made, we would create a record under the client's name of being found not factually innocent.

With the client's agreement and understanding, we have filed such petitions for factual innocence after advising the client that to be found factually innocent by the judge, the judge must find, after looking at the police report (which may be quite inaccurate) that "no person of ordinary care and prudence [would] believe or conscientiously entertain an honest and strong suspicion that [Petitioner] was guilty" People v. Adair (2003) 29 Cal.4th 895, 907, 129 Cal. Rptr. 799. This is a tough thing for a judge to find (one court said this standard is "incredibly high") because it is akin to finding the police made an unlawful arrest, something most judges will hesitate to find. Our clients understand this and so, if the judge seems inclined to grant the petition, we will request the ruling.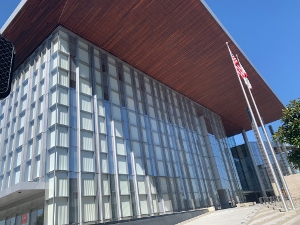 Governor George Deukmejian Courthouse
Long Beach Superior Court
If the judge seems opposed to the petition, we will withdraw the petition. After all, the case already resulted in no filing, an acquittal or a dismissal "in the interests of justice" (Penal Code § 1385), so this status suggests the case had no merit or was filed in error. It would be contrary to our client's best interest to then have a ruling that our client is not factually innocent.
Our results under the CARE Act are somewhat limited because the CARE Act has only been in effect since January 1, 2018. To bring an action under this statute, at Penal Code §§ 851.87 to 851.92, one must either have a case wherein the statute of limitations has run (one year for a misdemeanor and three years for most felonies), the case ending in an acquittal, the case ending in a dismissal under Penal Code § 1385 or the case was reversed on appeal, all appellate remedies have been exhausted and the case may not be refiled.
Moreover, there are certain exceptions from relief under the CARE Act that we have found, rather surprisingly, do apply more frequently than not. No petition for sealing a police record and court file under the CARE Act may be filed if the case relates to a case with no statute of limitations (i.e. murder, rape and certain other sex offenses) or domestic violence, child abuse or elder abuse when there is a pattern of abuse. Pattern is defined as two or more convictions for the crime or five or more arrests for separate events involving the same crime. Such a pattern must exist with the subject incident happening within three years of the last arrest or conviction.
The attraction of the CARE Act seems strongest for those, it seems, who are ineligible for its relief, in other words. In multiple initial client screenings, we have had to run away clients who were keenly interested in having us file such a petition, but we found that the potential client was disqualified from relief due a pattern of arrests or convictions, often involving domestic violence.
Nonetheless, we present the following PFI and CARE Act results for the reader's consideration: