Torrance, Police Report for Child Abuse Ordered Sealed
Our client was going through a divorce and had moved out from her husband, who had abused her in many ways. The two had worked out joint custody of their son, then seven.

On Mother's Day, our client had custody of her son and decided to take him to a movie (pre-COVID 19) that he had wanted to see. By the time the two at the theater, all the seats were taken except two in the very front row. This was perfectly acceptable to the child, but our client had tried watching a movie from such seats before and told her son they would need to come back another time.
The seven-year-old threw a temper tantrum and our client ended up pulling him out of the theatre so as not to bother the movie watchers with the noise he was creating. Days later, the boy told his father about this and claimed his mom had bruised his arm.
On another weekend when our client had custody of the boy, he refused to take a shower or bath, as young boys often refuse. Our client had to pull him into a shower and in doing so, he cried and threw a tantrum. Days later, the boy told his father about this and again, claimed the mom bruised his arm.
The father realized that if his wife were arrested and convicted of child abuse, her visitation rights with the boy may be eliminated and the husband's obligation to pay child support would decrease, so he called the Torrance police about the two incidents.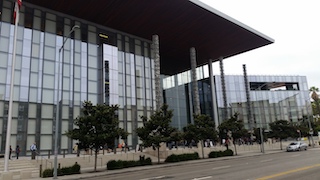 Long Beach Courthouse
The Torrance police visited the boy at his school in Torrance and the boy pointed to a tiny spot on his arm which was about the size of a pencil eraser or freckle. He told the police that was his bruise. The police, who surely knew this was not a bruise, took photographs of this and arrested our client for violation of Penal Code § 273.5a(b), child neglect ("child abuse") as a misdemeanor.
The Department of Children and Family Services (DCFS) investigated the claim and found it was unsupported. It merited mention that the father had filed three or four prior claims with DCFS and each claim was similarly found unsupported.

The client called up Greg Hill & Associates and spoke with Greg Hill, who explained that a certain amount of physical touching by a parent to a child is privileged under the parental privilege and even some physical discipline is legal if reasonable in nature.
Greg, who has three children himself, understood what the client had experienced and expressed optimism he could resolve the case in a fair manner with no conviction. The client explained that she wanted to become a nurse and having a conviction for child abuse would probably prevent a state license for nursing or at least delay the issuance of the license for years.
Greg Hill & Associates was then retained and Greg indeed did negotiate diversion for our client, wherein the case was dismissed under Penal Code § 1385 ("in the interests of justice") after our client attended 52 parenting classes and stayed out of trouble for a year. This resolution was a credit to the Torrance City Prosecutors who took the time to listen to Greg and consider the evidence, something many prosecutors refuse to do.
After the case was dismissed, Greg explained to the client that she could have the police report and court file sealed so that her criminal history would also be returned to its original state before the arrest and the case filing. Greg explained that yes, the entry for the case filing and its dismissal would be erased under a judge's order issued under Penal Code § 851.91 and 851.92.
Greg explained that he needed to file a petition to seal, which the client retained Greg to prepare, file and appear in court for a hearing. Greg then did prepare the petition to seal, filed it and served it.
The judge hearing the petition granted the petition, which made our client quite happy, knowing that her husband's multiple attempts to ruin her were not going to hurt her future as a nurse.
For more information about sealing an arrest and court file, please click on the following articles: