Can One Request Sealing After Prop 36 Dismissal? No.
Ever since the CARE Act, at Penal Code §§ 851.87 to 851.92, was passed into law allowing the sealing of certain arrest and court records, we have received a lot of phone calls from people seeking to seal police reports and court files for cases with convictions that were expunged under Penal Code § 1203.4 or dismissed under drug treatment programs such as PC 1000 or Prop 36.
The following published decision addresses this common issue, so we present this article summarizing the ruling to help our readers understand the CARE Act better. Please note that the Fifth Appellate District, in its ruling, used D.C., just the initials of the defendant, not because he was a juvenile, but out of respect for his privacy, as intended by the California Rules of Court, Rule 8.90(b)(10), in certain circumstances where privacy must be preserved, like here in a drug case when Prop 36 applied.
The Gist of this Article: Sealing a police report and court file is not allowed after one successfully complete a Prop 36 drug diversion program because under Prop 36, one enters a no contest of guilty plea and one is convicted, although it is later set aside if one completes the program.

In 2010, in Kern County, D.C. was arrested and later charged with felony possession of a controlled substance in violation of Health and Safety Code § 11350(a) and misdemeanor destruction of evidence in violation of Penal Code § 135.
D.C. was ineligible for Penal Code § 1000 diversion because he had a prior conviction for a controlled substance offense. However, pursuant to negotiated plea, D.C. pled no contest to violating Health & Safety Code § 11350(a) and the judge suspended imposition of the sentence under Penal Code § 1210.1 (Prop 36), subject to certain terms and conditions, and dismissed count 2.

D.C. then completed Prop 36 and the judge set aside D.C.'s plea of no contest to Count 1 and dismissed count 1 under 1210.1.
Eight years later, in 2018, D.C. filed a petition to seal under Penal Code § 851.91 his records related to the 2010 arrest. The trial court judge, Michael Bush, denied the petition and D.C. then appealed to the Fifth Appellate District Court in Fresno, which affirmed Judge Bush.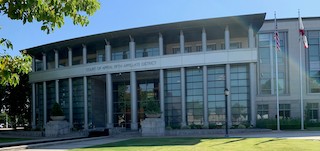 Court of Appeal Fifth Appellate District Fresno
The Fifth Appellate District first explained that since it was reviewing the interaction between two statutes, Penal Code § 1210.1 (Prop 36) and the CARE Act, at Penal Code § 851.91, its standard of review would be de novo (not looking for an abuse of discretion, in other words).
The appellate court then reviewed 1210.1 and noted that it permitted the judge, for "any defendant convicted of a nonviolent drug possession offense shall receive probation" and for the conviction to be "set aside" and "deemed never to have occurred" if the defendant completes a drug treatment program.
The appellate court then looked at Penal Code § 851.91, effective January 1, 2018, also known as Senate Bill 393 and the CARE Act, and who it applied to. The text of 851.91 states in multiple places that it applies to someone who did not suffer a conviction and it modified the language of certain diversion programs described under Penal Code §§ 1000.4 to 1001.9, but it did not modify 1210.1 (Prop 36).
D.C.'s main argument was that since 1210.1 provided that his conviction was to be treated by the law "as if it never occurred," he was eligible for sealing and destroying of the police report and court files associated therewith, as well as removal of any criminal history on his DOJ record relating to the 2010 drug arrest and conviction.
The Fifth Appellate District Court disagreed, explaining that because he suffered a conviction as part of Prop 36, the scope of rights under the law was limited. Indeed, someone convicted under Prop 36 does not regain one's firearm rights. It also meant that because there was an actual conviction, D.C. was outside the scope of 851.91 because 851.91 specifically only applied to those people who were arrested but the case was either not filed or dismissed in the interest of justice (Penal Code § 1385) after it was filed, or the person was acquitted of the charge, or the conviction was vacated or defendant was acquitted on appeal and the charge may not be refiled.
Thus, D.C.'s case did not fall under 851.91's scope of relief due the conviction taking place.
We hope this short summary helps at least one person in the same situation as D.C. understand why his or her arrest record and court file cannot be sealed and destroyed like D.C. requested.
The citation for the Fifth Appellate District Court ruling discussed above is People v. D.C. (5th App. Dist. ) 54 Cal. App. 5th 727, 269 Cal. Rptr. 3d 163.

For more information about sealing a record, please click on the following articles: