How to Seal an Arrest Record under Penal Code § 851.87
In a Nutshell: Sealing an arrest report under Penal Code § 851.87 is not available for everyone ever arrested. There are many requirements and restrictions, as the following article explains.

In courtrooms across California, one will see at least one motion to seal an arrest record under Penal Code § 851.87 every day. This common motion arose after Jerry Brown signed SB393 into law in October 2017 and many people are taking advantage of this, usually in pro-per, meaning without an attorney.
This new law was a response to the almost impossible older way of having an arrest record sealed through a petition for factual innocence under Penal Code § 851.8. Under 851.8, one had to show there was "no doubt whatsoever" that petitioner did not commit the offense at issue. One First Appellate District Court of Appeal judge called this standard "incredibly high" People v. Bejan Esmaili (2013) 213 Cal.App.4th 1449.
Now, under 851.87, almost anyone who was arrested, but never convicted for the events underlying the arrest is eligible to have that arrest record sealed. This could be because no criminal case was ever filed, a case was filed only to later be dismissed (in the interest of justice (Penal Code § 1385)) or due to a diversion program, whether judicial diversion (Penal Code §§ 1001.94 to 1001.98), Prop 36, PC 1000, JOIN, mental disorder diversion (Penal Code § 1001.36), military diversion (Penal Code § 1170.9), veteran's diversion (Penal Code § 1001.80), bad check diversion (Penal Code § 1001.60), parenting diversion (Penal Code § 1001.70), DA diversion (Penal Code § 1001.51) or any other diversion program), because one was found not guilty at trial or because one's conviction was overturned or vacated on appeal. In many of the diversion programs listed above, the judge is supposed to order the arrest record sealed, but sometimes this does not happen for several reasons.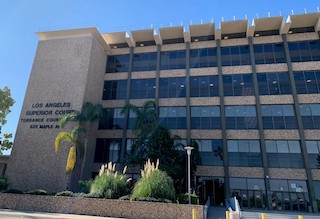 Torrance Courthouse
A conviction that was "expunged" under Penal Code § 1203.4 is not later eligible for sealing under Penal Code § 851.87 because at one time, the arrest had resulted in a conviction.
There are exceptions to relief under § 851.87 for certain types of arrests, such as those for domestic violence (Penal Code §§ 243(e)(1) or 273.5), child abuse (Penal Code §§ 273a or 273(d)) or elder abuse (Penal Code § 368) when there is a pattern of arrests. Even if one has suffered an arrest for such alleged conduct, the judge can nonetheless order the arrest sealed "in the interest of justice" under appropriate conditions that must be explained based on the specific circumstances of the arrest or the consequence.
To have an arrest record sealed means the record of being arrested will not appear in most criminal background checks. The word "most" is meant to distinguish a background check initiated by law enforcement when one is detained or arrested, when one applies for a job or while one is employed by law enforcement, in which the arrest will still appear. The arrest should not appear when one's employer performs a background search, unless one is employed in law enforcement.
In other words, Penal Code § 851.87 is a powerful tool for one to "bury" an embarrassing arrest, perhaps for solicitation of prostitution (Penal Code § 647(b)), indecent exposure (Penal Code § 314) or DUI (Vehicle Code § 23152), for example, that never resulted in a case being filed or a conviction. This can help one gain a job or a promotion, rent an apartment, get a loan, volunteer at the school of one's child, gain a professional license with the state of California or even to pass the background check of a potential spouse / girlfriend / boyfriend.
More specifically, Penal Code § 1001.33(a) states, "The divertee [the person who was placed on diversion and completed it successfully] may indicate in response to any question concerning his or her prior criminal record that he or she was not arrested or diverted for the offense, except if applying for a job in law enforcement. A record pertaining to an arrest resulting in successful completion of a diversion program shall not, without the divertee's consent, be used in any way that could result in the denial of any employment, benefit, license, or certificate."
Contact us.