Eligibility for Sealing and Destroying a Juvenile Record?
In the year 2000, the people of California passed Prop 21, which changed the law concerning the sealing and destruction of certain juvenile records.
Article in Short Form: If My Juvenile Record of a Felony Is Reduced to a Misdemeanor, Does This Mean It is Eligible for Sealing and Destruction?

Prop 21 barred the sealing and destruction of a conviction for an offense listed under Welfare and Institutions Code § 707(b) if the offense was committed by a minor who was 14 or older. The new provision even applied even to "707(b) offenses" committed before 2000.
People v. Superior Court
(
Manuel G
.) (2002) 104 Cal. App. 4th 915,926.
The offenses listed under Welfare and Institutions Code § 707(b) include murder, attempted murder, arson, robbery, rape with force or violence or threat of bodily harm, sodomy, lewd or lascivious acts (Penal Code § 288(b)), oral copulation by force, violence, duress, menace or threat of great bodily harm, kidnapping for ransom, kidnapping with bodily harm, kidnapping for robbery, assault with a firearm, assault by means likely to produce great bodily harm, discharge of a firearm into an inhabited or occupied building, any felony wherein the minor used a weapon, any other violent felony, manufacturing drugs, escape from a juvenile hall, home, ranch, camp or forestry camp, torture, aggravated mayhem, carjacking and voluntary manslaughter.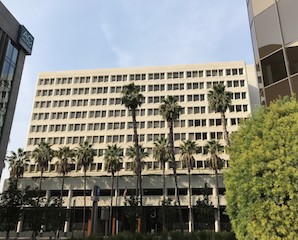 Court of Appeal Sixth Appellate District San Jose
It should be mentioned that this office often sees charges of assault by means to produce great bodily harm. We also often see many cases involving the use of a firearm or other weapon in the commission of a felony. These rather common charges are barred from being sealed and destroyed. If any offense charged in a juvenile petition is subject to the prohibition sealing no charge in the petition can be sealed. In re Jeffrey T. (2006) 140 Cal.App. 4th 1015,1019,44 Cal. Rptr. 3d 861.
It merits mention that certain offenses that are considered strikes as an adult are not barred from being sealed and destroyed, such as residential burglary which we see charged quite a bit.
If the conviction is not a 707(b) offense, a person can seek sealing and destruction either once the juvenile reaches 18 (and is out of custody or done with probation) or once five years has passed since the conviction, whichever is earlier. The person must submit Form JV-590, which is available at http://www.court info.ca.gov/forms. There also cannot be any pending civil litigation concerning the incident at issue. The processing of the request usually takes two or three months.
Prop 21 and Welfare and Institutions Code are silent as to whether a "707(b) offense" can be sealed and destroyed if it is reduced from a felony to a misdemeanor under Penal Code § 17(b).
However, a recent reported decision out of the Sixth District Court of Appeal answered this question (
In re G.Y.
(2015 DJDAR 2250)).
In November, 1998, G.Y., then 17 years old was beaten up by a group of men in a park. He went back to his friend's house and, with his friend, took his friend's father's hand gun and drove to the house of one of the men. There was a woman there who answered the door, but refused to let G.Y. and his friend into confront the man. G.Y. then took the gun and put it to the woman's head, threating to shoot her unless she summoned the man from inside the house to the front door.
She then yelled for the man to come forward and he did so, with another man. The two men came forward, holding baseball bats. G.Y. then threatened to shoot one of the men, but then left.
G.Y. was then arrested and charged with assault with a deadly weapon, Penal Code § 245(a)(1), as well as two counts of making a criminal threat, Penal Code § 422. It was also alleged that G.Y. used a firearm in the commission of both charges above (Penal Code §§ 12022.5(a)(1) and 1203.06).
A month later, GY. admitted the allegations about assault with a deadly weapon. GY. was then committed to a juvenile ranch facility and was released four months later.
Fifteen years later, he filed a petition to reduce his felony adjudications to misdemeanors. He showed the judge proof of rehabilitation in that he had served in the U.S. Army for three years, reaching the rank of sergeant and receiving multiple awards from service in Iraq. He also received a Bachelor of Science degree. The petition to reduce the felonies to misdemeanors was granted.
G.Y. then filed a petition for an order to seal his juvenile records under Welfare and Institutions Code § 781. The court denied the petition and G.Y. appealed to the Sixth District.
The Sixth Appellate District affirmed the trial court, noting that the underlying assault with a firearm is listed under Welfare and Institutions Code § 707(b). Neither Prop 21 nor Welfare Institutions Code § 781 addressed the reduction of a charge to a misdemeanor and in fact, neither the statute nor Prop 21 specifies that the assault with a firearm charge must be a felony.
Therefore, the appellate court ruled the reduction of the charge made no difference in terms of excluding it from the list of barred adjudications listed under § 707(b).
For more information about the issues in this case, click on the following articles:
Adult Convicted of Resisting Arrest May Not Serve Sentence in County Jail Because of Juvenile Strike.
Contact us.