Seal & Destroy Petition Granted, Compton Prostitution
Our client, age 38, was driving northbound on Long Beach Boulevard in Lynnwood. It was about 5:15 p.m. in April, so it was still light out. Our client was driving back home from work.
As he was approaching the intersection of Long Beach Boulevard and Lynwood Avenue and spotted a woman wearing a cheetah print pink tank top and short blue jean shorts, with sandals. She was standing on the corner of Euclid and Long Beach Boulevard. She clearly looked like a prostitute seeking customers.
Our client, driving a 2010 Toyota Camry, client unzipped his pants and pulled out his penis from his pants. He then pulled alongside the woman, who then bent down to look at our client through the passenger side car window, allowing her to see his exposed penis. He then asked her, "How much?"

The woman, seeing his exposed penis, replied, "Twenty dollars."

Our client responded, "Fine" and said to her "Get in."

The woman told him to pull into a parking lot nearby, by Circle H Donuts.
After he did so, a police car blocked him in and ordered him out of the car. Our client zipped up his pants and was cited for indecent exposure (Penal Code § 314(1)), as a misdemeanor, and solicitation of prostitution (Penal Code § 647(b)(2)), also a misdemeanor. The police took his photograph in the parking lot while he was handcuffed. He was asked to sign a promise to appear in the Compton Courthouse in about two months.

Our client glumly signed the promise to appear and was handed the ticket. In shock and feeling devastated, he then got back in his car and drove home.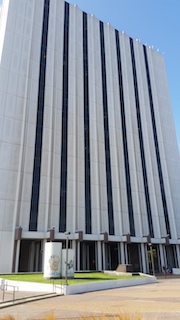 Compton Courthouse
About a week later, he called Greg Hill & Associates and explained what had happened. The indecent exposure charge concerned Greg the most because if one was convicted of this, one would be required to register as a sex offender for life (pending changes in the law under SB 384 pending for January, 2022) for life under Penal Code § 290. The client also explained how he made a decent income and his wife was quite sick and she could not work.
Greg explained how such cases are generally resolved at the Compton Courthouse, although most do not involve indecent exposure with a solicitation for prostitution. The client also had a prior felony conviction for assault with a deadly weapon and had just ended probation on a DUI conviction out of the Long Beach courthouse.
Greg then appeared in the Compton courthouse for the client's arraignment and was shocked to see that the complaint included a charge of indecent exposure, as well as solicitation of prostitution. Greg did not expect the indecent exposure charge to be asserted.
However, the young district attorney assigned to the case, in discussing the case with Greg, agreed to Greg's offer to resolve the case through informal diversion, wherein the client would "earn a dismissal" by performing five days (40 hours) of approved community service and attending an AIDS Education and testing class. The client was happy with this resolution.
The client then performed the 40 hours of approved community service and attended the AIDS Education and testing class. The class was then indeed dismissed under Penal Code § 1385.
As it was dismissed under Penal Code § 1385, the client was eligible to have the police report and court filed both sealed and destroyed under Penal Code §§ 851.91 and 851.92, Greg told the client. Greg asked the client if he wanted to seek sealing and destroying of the court file and police report.
The client was eager to do this, to erase or delete any record of the case filing from his criminal history (and Livescan), which an order under 851.91 and 851.92 will do.

Greg Hill & Associates then prepared, filed and served the petition for an order to seal and destroy the police report and court file in the case. The judge assigned to the case granted the order, which made the client very happy.
For more information about petitions to seal and destroy, please click on the following articles: