Seal & Destroy Police Report, Domestic Violence Downtown LA
In 2017, when age 22, our client was arrested by the Los Angeles Police Department after her then-boyfriend called the police claiming our client pushed him against the wall and hit him. The boyfriend had a small scratch to the side of his cheek, too. Our client, at the time, had a five-year old son. She was a single mom.
Our client was handcuffed on suspicion of committing felony domestic violence, a violation of Penal Code § 273.5(a), and taken to the 77th Street Precinct station on Broadway, where she spent two nights. She explained to the police that she was acting in self-defense and her boyfriend only called the police as a cover for himself, although our client showed no injuries herself.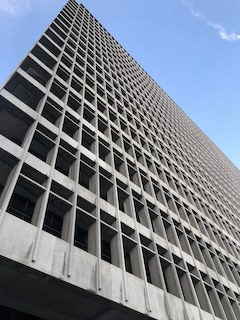 CCB Courthouse
After the second night, she was due to have her arraignment within 72 hours (as required under Penal Code § 825) at the Downtown Los Angeles criminal courts building (CCB), also called the Clara Shortridge Foltz courthouse, at 210 West Temple. However, no case was filed and our client was released. She had deferred on posting a bond, which was $50,000 for felony domestic violence.
At the time, in 2017, the statute of limitations for felony domestic violence was three years (now it is five years as of 2021). So she waited until 2020 for a case to be filed. She would constantly check her name on the Lacourt.org website, but nothing was ever filed.
Meanwhile, our client continued her studies at UCLA and graduated with a Bachelor of Science degree in psychology and linguistics. She then began employment with the State of California, starting as a date entry clerk, but rising quickly by 2021 to program coordinator. Meanwhile, her son had reached age nine.
The record of her arrest for domestic violence was never changed to a detention, as is required under Penal Code §§ 849.5 and 851.6 (see also Schmidt v. Cal. Highway Patrol (2d Cal. App., 2016) 2 Cal. App. 5th 1287) when an arrest does not result in a criminal case filing.

The client then learned one day about sealing an arrest report as is provided under Penal Code § 851.91 and 851.92. The new law, enacted in 2019, permitted a person who was arrested but never charged with a crime, to petition the court to issue an order to the California Department of Justice to remove the record of the arrest from one's record and to order that the law enforcement agency involved destroy the arrest report.
The client then called Greg Hill & Associates to ask about having this done for her. She then spoke with Greg Hill and explained what had happened in 2017 and what she had been doing with her life since then. She also explained how the record of the arrest had stigmatized her at work and, while she had been promoted, she felt the promotion was delayed by her record of arrest for domestic violence and her future was limited due to this stigma.
Greg then explained how the process of petitioning to seal an arrest report worked and asked the client if she had been arrested again at all or prior for domestic violence because if there was a "pattern" of domestic violence, child abuse or elder abuse. Greg explained that "Pattern" is defined as "two or more convictions or five more arrests, for separate offenses occurring on separate occasions with three years from at least one of the other convictions or arrests." 851.91(c)(2)(A)(III)(ii).

Greg also asked the client if she had lived in California for the entire time since 2017 and if she had ever been arrested for identify theft because the judge had to consider if the petitioner had at any time eluded law enforcement or prosecution of the case or engaged in identity fraud to frustrate prosecution.
Lastly, Greg explained that while the record of the arrest would be removed from her record as visible on Livescan, police could still see the record if she were to ever apply for a job with law enforcement.

The client then agreed to retain Greg Hill & Associates and our office prepared, filed and served the petition to seal and destroy a police report. The filing included a supplemental memorandum and a declaration signed by the client. Greg then appeared in court on the hearing of the petition and it was granted.

The client was happy with this.
For more information about sealing and destroying an arrest record and/or court file, please click on the following articles: