Torrance, Seal & Destroy Arrest and Arrest Records from 1997
In 1997, when our client was 27 years old, he was living with his-then girlfriend in the Lennox area. His girlfriend had a gambling addiction and, unknown to him, had stolen money from him to support her addiction – and lost it all.
This upset our client and told his girlfriend that he was breaking off the relationship. Naturally, this upset her, too. She decided to get even, however, by calling the Lennox Police and claiming our client beat her up.
The police rushed to the apartment the two shared and immediately arrested our confused client. When police told him that he was being arrested for domestic violence, he was shocked, but also understood that her dishonesty in stealing from him extended to dishonesty with the police to having him arrested for something he did not do.
He told the police he never touched her in anger and did not beat her up at all. He explained that he was upset with her and had broken up with her because he had discovered she stole from his bank account to support her gambling addiction – and then lost the money. The police nonetheless held him for felony domestic violence overnight and recommended that charges for felony domestic violence (Penal Code § 273.5(a)) and felony criminal threats (Penal Code § 422) be filed against him.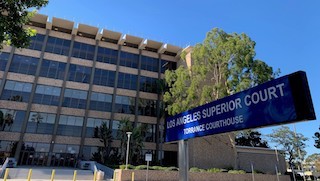 Torrance Courthouse
Bail was set at $50,000, which our client posted through bond underwritten by a bail bondsman.
The Torrance District Attorney then filed a misdemeanor case against our client for misdemeanor domestic violence and misdemeanor criminal threats.
The client then retained a well-known, but very expensive attorney in the Torrance area who earned his pay by having the prosecution dismiss the case under Penal Code § 1385. This is an exceptional result, something our office has been lucky enough to have only rarely over the years. In 1997, it was more common than it is now, but it was still a great result back then.
The client commented that he thought this was possible because his ex-girlfriend signed a declaration stating that she had fabricated the claims of domestic violence and criminal threats in order to overshadow her theft of his money to support her gambling addiction. The prosecutor then felt ethically compelled to dismiss the case in the interest of justice.
Fast forward twenty-two years to 2019 and our client, now age 49, is living in Minnesota and working for a large multi-national corporation. He had been promoted steadily over time, but suddenly ran into a wall and asked his employer what the problem was with him.
The employer explained that he was ineligible for further promotion with an arrest and court case for domestic violence, even if it was ultimately dismissed.

The client then called Greg Hill & Associates and asked if the arrest record and court file could be sealed and destroyed.
Five years ago, this was only possible for certain juvenile matters and adult cases wherein one was found factually innocent under Penal Code § 851.8, an almost impossible standard.
Now, however, with the new CARE Act at Penal Code § 851.87 to § 851.92, Greg explained, this was possible in certain cases such as his that were dismissed under Penal Code § 1385 ("in the interest of justice").
Greg Hill & Associates then was retained and got to work on a Petition to Seal & Destroy under Penal Code §§ 851.91 and 851.92. The petition itself was a simple judicial council form, but our office supplements it with points and authorities and a declaration from our client explaining why such an order to seal is needed.
In the case of a domestic violence case, the judge must examine if the petitioner has a pattern or series of domestic violence cases or arrests over a short period of time and if so, he can deny the petition.
In our client's case, he had no other arrests or cases for domestic violence or any other case whatsoever.
The Torrance judge hearing the matter granted the petition, which made our client's ceiling on promotion disappear. He was extremely happy that this was made possible.
For more information about sealing an arrest record and court file, please click on the following articles: