Alleged Sexual Battery Police Report Sealed & Destroyed
In late September, 2015, a Torrance Police Officer was dispatched to response to an alleged sexual incident at a residence in Torrance. The alleged victim, our client's cousin, reported that our client had inappropriately touched her when he had come to her home six weeks earlier to pick up his children after work.
Our client had been employed for the past four and a half years with a prominent credit union, where he worked as an IT Systems Engineer. He oversaw the IT infrastructure for the company and ensured that the customer information was secure.
He had graduated from California State University, Dominguez Hills with a Bachelor of Science in business administration and information systems in 2006. He then went on to earn his Master of Science degree in Business Administration from the University of Phoenix later 2018.
Police then called our client over the phone. Our client adamantly denied having touched his cousin in any intimate or inappropriate way. He believed and still believes that his cousin fabricated the allegation in retaliation for a dispute over jewelry and money belonging to his mother that the cousin was asked to entrust when our client's mother traveled to India. The alleged behavior is completely out of character for our client, who is a married father of two.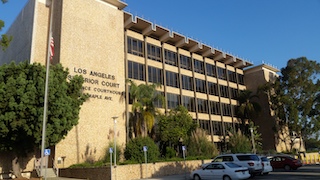 Torrance Courthouse
Despite our client's denials, in January, 2016, a criminal case was filed in the Torrance Courthouse against our client for sexual battery, Penal Code §243.4(e)(1), and simple battery, Penal Code § 242, both misdemeanors.
Our client was never notified of this via letter or otherwise, even though he lived just a mile from the Torrance courthouse and the Torrance police department.
Three years and eight months later, in September of 2019, our client was offered an IT management position, however when the company completed a background check, he was informed of the bench warrant in this case. The job offer was then rescinded by the company, a devastating blow to our client's professional life.
The client contacted Greg Hill & Associates, who recognized the Sixth Amendment lack of speedy trial issue and filed a motion to dismiss. On December 12, 2019, the Court granted our client's motion to dismiss under Penal Code § 1385 following a hearing on a motion filed under Serna v. Superior Court (1985) 40 Cal.3d 239.
Despite the dismissal, our client, age 40, remained stigmatized at work because the police record and the court filing continue to follow him. He was offered a new job, however once the employer completed a background check, the offer was rescinded due to the record in this case, which was his only criminal history.
He reported this to Greg, who suggested filing a petition to the Court under Penal Code §§ 851.91 and 851.92 for an order to seal the police report and all related court records for his alleged violations of Penal Code §§ 242 and § 243.4(e)(1).
The client agreed. Greg Hill & Associates then prepared judicial council forms CR-409 (Petition to Seal Arrest and Related Records) and CR-410 (Order to Seal Arrest and Related Records), filing each with a Supplemental Memorandum and declaration from our client in support of these two attached forms.
Our client was qualified for relief under §§ 851.91 and 851.92. Penal Code § 851.91(a) states: "a person who has suffered a police investigation that did not result in a conviction may petition the court to have his or her police investigation and related records sealed, as described in Section 851.92." Here, our client suffered a report that did not result in a conviction when the case was dismissed under 1385 on December 12, 2019.
While the police report and the criminal case were for battery, our client's record otherwise did not show a "pattern" of violence that would disqualify him from relief as specified in section 851.91(C)(2)(A)(i)(I). "Pattern" for purposes of this petition, is defined as "two or more convictions or five more arrests, for separate offenses occurring on separate occasions with three years from at least one of the other convictions or arrests." 851.91(c)(2)(A)(III)(ii). Here, our client had no other arrests or convictions, let alone for violence, ever.
The Torrance judge hearing the motion granted the petition to seal and destroy. This obligated the court, within 30 days of issuing the order, to forward a copy of the order to the law enforcement agency that made the arrest, to any other law enforcement agency that participated in the arrest and the law enforcement agency that administers the master local summary criminal history information that contains the arrest record for the sealed arrest.
Second, within 30 days of issuing the order, the court shall furnish a disposition report to the Department of Justice indicating that relief has been ordered and providing the section of the Penal Code under which that relief was granted and the date that relief was granted.
Our client was happy with this result and the outcome overall.

For more information about sealing and destroying a police report and court file, please click on the following articles: