Domestic Violence Arrest by LAPD, Report Sealed & Destroyed
Our client, age 51, was a single dad with a fifteen-year-old son. Our client was originally from France, but had moved to the United States to open a French restaurant about ten years ago. His knowledge of the restaurant industry led him to owning several restaurants in the West Los Angeles and Santa Monica area, each with a liquor license from the California Department of Alcohol and Beverage Control.
As a single, successful guy, he often attracted the attention of females, some of whom were quite good looking. In December of 2019, he began dating a woman who he soon learned was addicted to various illegal drugs and who would often act in an irrational and unpredictable manner.
One evening, he and she were together in Marina Del Rey and she began acting very bizarre. Our client then began videotaping her with his cell phone, as he suspected she was going to claim he raped her or beat her (and then seek a lump sum payment of money). As our client suspected, she then passed out and he called the Los Angeles Police Department, who then summoned paramedics because the woman had suffered a drug overdose.
When she regained consciousness at the hospital, she told police that our client had punched her and strangled her. Our client was then promptly arrested and taken to the Pacific Division Police Department. He showed the police the video he took of the woman acting in an aberrant manner. Police, however, refused to release him and he had to post felony level bail ($50,000) to be released.
About two months later, just before the arraignment, the Los Angeles District Attorney's Office wrote our client that the case was being rejected for filing (a "DA Reject") and provided our client with a DA reject number.
While the client was quite happy with this, the Department of Alcohol and Beverage Control had already suspended his liquor license at each of his restaurants just due to the mere arrest for a felony. More importantly perhaps, he wanted to become a U.S. citizen and an arrest for felony domestic violence, even if a case were thereafter never filed, would require quite a bit of explaining before an application for citizenship would ever be approved.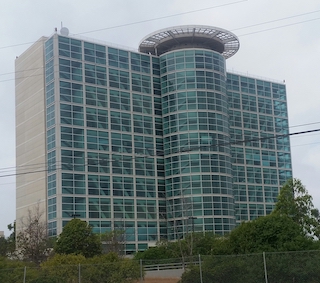 Airport Courthouse
The client spoke with a retired Los Angeles County Sheriff about this, who then contacted Greg Hill and inquired about having the police report and court file, if any, sealed.
Greg listened to the retired LA County Sheriff explain the facts of the case and what the client needed. Greg explained that because the case was a DA Reject, a petition to seal and destroy the police report and any court filed could be filed under Penal Code §§ 851.91 and 851.92.
Greg then spoke to the client, who had a thick French accent, who confirmed much of what the retired sheriff had described to Greg. The client further explained that without a liquor license, his restaurants only had about one-third the business and before and this made it very difficult to remain in business and to support himself and his fifteen-year-old son. His restaurants had significant fixed costs every month that were difficult to pay without a liquor license.
Greg then filed the petition to seal and destroy the police report and any court file. The petition included a short memorandum of points and authorities explaining that since the arrest was for domestic violence, the judge needed to evaluate whether our client had previously engaged in a pattern of similar allegedly violence conduct, even conduct that led to no file decisions, as could be disqualifying under Penal Code § 851.91(C)(2)(A)(i)(I).

The filing also included a declaration from our client explaining why he sought an order sealing the police report and any court file, describing his loss of his liquor license and how his restaurants relied upon the sale of liquor to survive and how this business helped him support himself and his fifteen year-old son. The client also explained how he wished to be a U.S. citizen one day.
The petition was filed in the Airport Courthouse and granted without even a hearing, which was surprising. Our client was extremely happy with this result, which would allow him to renew his liquor licenses, permit his restaurants to recover, and him to enjoy the level of income he had prior to the unfortunate incident with the drug-addicted woman who lied to police to have him arrested.
For more information about sealing and destroying a police report and court file, please click on the following articles: