Long Beach, Police Report and Court File in 647(b) Sealed
In February of 2016, our client issued a citation for suspicion of violating Penal Code § 647(b) (solicitation of prostitution) during a police sting operation in Harbor City.
Our client was driving home and stopped at a stop light near PCH and President Avenue, when, while sitting in his car waiting for the light to turn green, he was approached by a scantily-clad woman who spoke Spanish. She was really a police officer and invited him to meet her at a local motel, where she told him she already had a room reserved for him and her. Our client then agreed to pay her $40 for sex and drove down an alleyway toward the motel.
Once at the motel, our client followed the decoy toward a room and entered. Once inside, the decoy, wearing a hidden recording device, gave a pre-arranged signal to her police colleagues and two officers emerged from the bathroom to detain our client.
He was then asked to sign a promise to appear in the Long Beach Superior Court in about two months, which he signed, and he was released.
Our client was extremely shaken up by this experience. In the course of his employment with a school district, our client knew that he was certainly subject to routine background checks, which would reveal his arrest and consequently, he might be terminated. He was extremely concerned that if he did lose his job, he would not be able to financially support himself and his family. He did not want his family to pay for his mistake.
He therefore called Greg Hill & Associates and explained the facts of the citation and his employment situation. Greg explained how such cases were normally handled in Long Beach and how he most likely would be asked to take the Prostitution Diversion Program (PDP) and then the case would be dismissed after a year.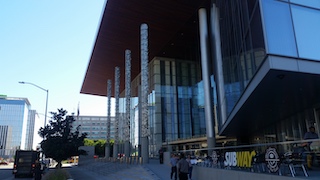 Long Beach Courthouse
Our client's goal, however, was for the case to never be filed. Greg and the client then agreed that he could try to take the PDP before the arraignment, and perhaps even some sexual compulsiveness anonymous (SCA) classes before the arraignment. The client then indeed did so, but the case was still filed.
At the arraignment, Greg appeared in the Long Beach Superior Court and showed the prosecutor that our client had already completed the PDP and had attended six SCA classes, too. This is very unusual to do in advance, which the Los Angeles City Attorney's Office recognized and offered Mr. Mendoza formal diversion. She also reduced the customary one-year diversion period to nine months.
Our client then stayed out of trouble for nine months and the case was in fact dismissed under Penal Code § 1385 ("in the interests of justice").
In 2020, the client then contacted us about sealing and destroying the police report and the court file. He again spoke with Greg Hill, who explained that this was in fact possible because the case was dismissed under Penal Code § 1385. Greg explained that this would delete the record of the case being filed from the client's DOJ or Livescan printout, so the client's employer would not see the fact that he was charged with solicitation of prostitution, even though the case was ultimately dismissed.
Greg explained that the client was qualified for relief under §§ 851.91 and 851.92. Penal Code § 851.91(a) states, "a person who has suffered an arrest that did not result in a conviction may petition the court to have his or her arrest and related records sealed, as described in Section 851.92." Here, our client suffered an arrest that did not result in a conviction when the Los Angeles City Attorney's Office offered formal diversion to him after reviewing the facts that led to the arrest. The case was later dismissed when he successfully completed the terms of diversion.
Our office then prepared, filed and served a petition to seal and destroy the police report and court file, which the judge assigned to the case in the Long Beach Superior Court granted Our client was very happy with this.
For more information about sealing and destroying a police report, as well as the court file, please click on the following articles: