Torrance Courthouse Drug Offense Results
The Torrance Courthouse handles misdemeanor drug offense offenses in three courtrooms (2, 5 and P) in general. The misdemeanor cases start in Department 3 with Judge David Reinert and then proceed to 2, 5 and P.
Judge Rene Gilbertson is in Department 2 and hears matters arising in Hermosa Beach, Palos Verdes and Manhattan Beach. Judge Amy Carter is in Department 5 and hears matters arising in Redondo Beach and Gardena. Judge George Bird is in Department P and hears matters arising in Torrance and Lomita.
Felony drug offenses can be heard in many more courtrooms, but usually start in Department 4 with Judge Thomas Sokolov, proceed to Department 8 with Judge Nicole Bershon for a preliminary hearing and then are assigned to one of several courtrooms.
Each department has one or more prosecutors assigned to it. Over time, prosecutors are transferred to other courtrooms and to other courthouses. Prosecutors also change in their approach to drug cases, some more than others.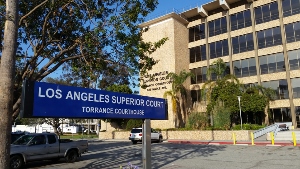 For Torrance Courthouse contact information and a Google Map, please click here.

Consequently, in presenting the case summaries below, we caution the reader not to expect a similar result because no case can have exactly the same facts and the prosecutors do change.
However, the drug offense results below do help the reader understand how past cases have resolved and what is possible.
Please see our drug offense results, by city, by clicking on the cities listed below and reading a detailed description of each case.
Gardena Drug Offense Results
Gardena, Client Arrested for Possession of Marijuana for Sales (Health and Safety Code § 11359(a)), Case Resolved for Diversion and 45 Days of Cal-Trans
Lomita Drug Offense Results
Manhattan Beach Drug Offense Results
Manhattan Beach, Felony Possession of Methamphetamine for Sales and Probation Violation, 16 Months in State Prison
Palos Verdes Estates Drug Offense Results
Redondo Beach Drug Offense Results
Redondo Beach, Felony Possession of Cocaine, Marijuana and Methamphetamine for Sales, Resisting Arrest and Probation Violation, Client Agrees to One Year Treatment Program and Case Dismissed
Torrance Drug Offense Results
Torrance Courthouse, Felony Possession of Xanax, Norco and Cocaine for Sales, Client Admits to Sales, Diversion Deal and Dismissal

Torrance, Client Found with Three Drugs for Sales, Knives, Body Armor, Gas Mask and Driving without a License, Case Negotiated to 180 Days Residential Treatment and Three Years Formal Probation

Client, Age 21, on Probation for Violation of Health and Safety Code § 11378, Picks up Felony. Possession of Meth Charge Three Weeks Later, Case Reduced to Misdemeanor under Prop 47, Torrance