Torrance, Possession of 3 Drugs for Sales, 180 Day Program
Our client, age 20 and with a prior record for possessing heroin, was stopped for speeding 65 miles per hour in a 35 mile per hour speed limit zone and failing to stop at a red light in Torrance at 1:30 a.m. The client had one passenger, who was fast asleep.
In a Nutshell: Torrance, client found with three drugs for sales, knives, body armor, gas mask and driving without a license, case negotiated to 180 days residential treatment and three years formal probation.
The officer who stopped our client was in for quite a surprise as he checked the inside of the car, with our client's consent, finding a gas mask and body armor. As he looked further, he found a large knife, a digital scale, seven plastic baggies, approximately six grams of methamphetamine, eight klonopin (clonazepam) pills, 15 trazadone pills (with a prescription) and two Ambien (zolpidem) pills without a prescription.

According to the police report, our client admitted that he had sold methamphetamine to others in the last week. The digital scale and plastic baggies suggested he had been involved in sales.
Our client was then arrested and, with the help of his parents, bail was posted (he bailed out). He then called our office one day before the arraignment.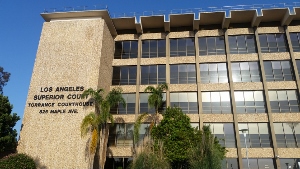 Torrance Superior Courthouse
Greg discussed the case with the client and then appeared in the Torrance Superior Court for the felony arraignment in Department 4. Much to the client's surprise, the only charge alleged was a single violation of Health and Safety Code § 11378, Possession of a Controlled Substance for Sales.

There were no charges for possession of a dirk or dagger (Penal Code § 1310), possession of a narcotic without a prescription (Business and Professions Code § 4060), or even possession of a controlled substance without a prescription (Business and Professions Code § 11375(b)(2)).
A "Pre-Plea" report, also called a probation officer's report, was ordered at the arraignment. At the following appearance, about four weeks later, a preliminary hearing setting conference, the Pre Plea report was received and it recommended 180 days in county jail, followed by five years of formal probation.
Greg then discussed the case with the District Attorney, explaining that the search really was without our client's consent and that our client's passenger would so testify. The passenger, however, had a lengthy criminal history, including for several felonies.
The District Attorney listened and reminded Greg that there were several charges which were not charged at all, but would be charged if the case were not resolved quickly. To push the resolution, she agreed to a disposition wherein our client would enroll in a 180 residential drug treatment program (as our client's parents were keen to arrange for their son), followed by three years of formal probation, with the client being eligible for a reduction of formal probation to summary probation after one year if his 180 days of residential drug treatment and behavior otherwise was without problems. It should be noted for the reader that if the judge reduces formal probation to informal, or summary probation, the offense level is re-characterized as a misdemeanor.
The client was quite happy to avoid jail and selected a residential drug treatment program in South Torrance, as he was quite familiar with several due to his heroin issues over the last five years.
The client then even checked himself into the residential treatment program before the next court appearance.
At the next court appearance, the plea bargain was entered into, ordering our client to complete a 180 day residential drug treatment program as part of three years of formal probation, with a condition that if he completes it without problem and otherwise stays out of trouble for a year, probation would be modified from formal to summary probation.
Our client was relieved to dodge the many charges he potentially faced, have the opportunity to earn a misdemeanor, and to avoid state prison (which for this felony charge, under AB109, would be served in county jail).
For more information about the issue in this case, click on the following articles:
Court Rules That, in Drug Case, a Probation Condition Is Proper That Someone Not Associate with Others He Has Reason to Know Are Drug Users
Watch our video about Drug Offenses by clicking
here
.
Contact us.