Torrance, Possession of Meth While on Probation, Prop 47
Our client had recently been placed in a residential treatment facility in Torrance after pleading to a violation of Health and Safety Code § 11378, also known as possession of a controlled substance for sale. Greg Hill had negotiated a plea bargain wherein he would live in a residential treatment facility for 90 days while on formal probation. If the client was able to complete the program and stay out of trouble for a year, probation would be modified to be informal probation thereafter.
In 50 Words or Less: Client, age 21, on probation for violation of Health and Safety Code § 11378, picks up felony possession of meth charge three weeks later, case reduced to misdemeanor under Prop 47, Torrance.
However, our client was a "walk away." He did not like the treatment program because many of those there to overcome their addiction to drugs were ironically using and selling drugs openly there and encouraging our client to join them. Our client responding by leaving the program.
Sometime later, he was stopped in Torrance for allegedly speeding 60 miles per hour in a 40 mile per hour zone at 2:00 a.m. When officers stopped him, they first suspected he was DUI, but he did not smell of alcohol. They asked to search his car and found with a gas mask, hunting knives, body armor, and approximately six grams of methamphetamine. Police also found two Ambien pills, eight (clonazepam) (Klonopin) and fifteen Trazadone pills, as well as digital scale. The Torrance police were quite alarmed by their discovery, as was the Torrance District Attorney's office.
The client's family posted bail for their son, quite surprised and upset that he was out driving around and not in the drug treatment facility, let alone at 2:00 a.m. with multiple illegal drugs in his car. The fact that he was even permitted to bail out was fortuitous, as he faced a probation violation, which can mean and often does mean no bail.
The client's family then called Greg Hill & Associates again. Greg Hill then represented the client in this possession for sale matter, ultimately negotiating the case for a plea to Health and Safety Code § 11378 only, with a delayed entry of the sentence pending the client's completion of a 180 day residential drug treatment program. This was essentially the same plea bargain terms as in the prior case, which were quite good in and of themselves, and effectively meant there was no punishment for the probation violation. However, the deal was not entered on the record yet.
In the meantime, the client re-entered the residential treatment program. He soon realized that the facility was a fertile ground for even more drug use and stronger addiction, rather than overcoming addiction.
After three weeks, while his second case was still pending (as well as the probation violation) because the plea had not been entered to the 180 days, he was picked up at the residential treatment house with 5.6 grams of methamphetamine in his pocket (a violation of Health and Safety Code § 11550). The client called Greg Hill from the Torrance jail, in tears. The client's parents were equally distressed, fearful that with the obvious probation violation their son would face at least some jail time, if not prison time (to be served in county jail).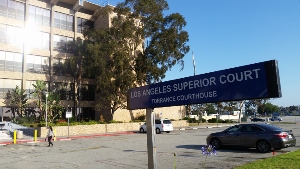 Torrance Superior Courthouse
Greg Hill then negotiated a resolution of the new 11550 case with the client's reinstatement on probation and return to different residential treatment program. The client then did successfully complete 180 days at the new program.
At a further status conference with Proposition 47 now in effect, Greg made an oral motion to reduce the later felony 11550 case from felony possession of methamphetamine to a misdemeanor. The judge granted the motion and terminated probation on the earlier 11378 case, but kept the client on informal probation in the later case for six more months.
This meant that if the client successfully completes probation in the later case, he can then ask the court to expunge both convictions.
For more information about Proposition 47 and a probation violation, click on the following articles:
Watch our video about drug offenses by clicking
here
.
Contact us.