Proposition (Prop) 47 and What It Means for Sentencing
On November 4, 2014, California voters passed Proposition 47. It is immediately effective and retroactive in application. It reduces specified common "wobbler" felonies to misdemeanors, creates a new "shoplifting" offense and allows resentencing of certain convicted felons as misdemeanants for "all purposes," except as described below.
Brief Synopsis: Proposition 47 allows certain low-level felonies for theft and drug possession to be retroactively reduced to misdemeanors if defendant is not disqualified. It also created a new Penal Code section for shoplifting and a "catch-all" section for misdemeanor theft in § 490.2.

The effects of Prop 47 cannot be understated. It will improve the employment future of those who can now claim they are no longer felons. In the future, it will mean lower bail for certain offenses, a one-year statute of limitations rather than three years, and that city prosecutors will handle such offenses rather than district attorneys. It also means fewer preliminary hearings and that there will be lighter sentences in the future for such offenses. Furthermore, it means there will be more citations with release, rather than arrests and bookings. This will "unclog" police stations.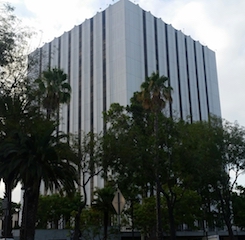 Compton Courthouse
The measure amends six sections of the Penal Code and three sections of the Health and Safety Code, as well as adding a new section. The new section, at Penal Code § 1170.18, sets forth procedures for someone previously convicted and sentenced for a felony that is now a misdemeanor to apply for resentencing. In a nutshell, the applicant must establish to a judge that he or she does not pose an "unreasonable risk" of committing one of the offenses listed in Penal Code § 667(e)(2)(c)(iv). It merits mention that when one applies for resentencing under this section, the victim of the underlying offense is notified of the application under Marsy's Law.
Not everyone is eligible for reduction of one of the specified offenses to a misdemeanor. Anyone who is a registered sex offender under Penal Code § 290(c) is ineligible. Anyone with a prior conviction for a serious crime listed at Penal Code § 667(e)(2)(c)(iv) is also ineligible, but these are only the most serious felony offenses such as murder, solicitation to commit murder, homicide, assault with a machine gun on a police officer or fireman, possession of a weapon of mass destruction, or any other serious or violent felony punishable by death or life in prison.
The six sections of the Penal Code that are now a misdemeanor for everyone not otherwise ineligible are:
1. Penal Code § 459.5, the new shoplifting statute that applies to a entering a commercial building during business hours where the value of the items taken is less than $950;

2. Penal Code § 473(b), forgery of checks or other legal documents where value of the theft is less than $950;

3. Penal Code § 476a, tending a non-sufficient funds (NSF) check of less than $950. This section does not apply if the person has done this three or more times before.

4. Penal Code § 490.2, grand theft where the value is less than $950;

5. Penal Code § 496(a), receiving or concealing stolen property worth less than $950; and

6. Penal Code § 666, petty theft with a prior. This means that petty theft is a misdemeanor now, regardless of the number of prior petty theft convictions. There is an exception to this if the person committed elder abuse theft or certain other non-petty theft priors.

The three Health and Safety Code sections affected by Prop 47 are:
1. Health & Safety Code § 11350, simple possession of heroin, cocaine and many other controlled substances;

2. Health & Safety Code § 11357(a), simple possession of concentrated cannabis; and

3. Health & Safety Code § 11377, simple possession of methamphetamine, ecstasy, GHB and many other controlled substances.

These are some of the most common felony offenses we see. This will push many cases to the misdemeanor courts, filling them up. However, coming January 1, 2015, in Los Angeles County only, there is AB 2124, which gives new powers to judges to grant diversion on certain misdemeanors (DUI is excluded, as are certain sex offenses) and this should unclog the courts quite a bit because many such offenses will be "diverted" at arraignment.
A big issue that can foreseeably arise as folks seek to have their felony conviction(s) reduced to misdemeanors will be whether the theft at issue involved $950 or more. This would have needed to be stipulated to as a factual basis at sentencing, which is often not done, we find.
A last issue that cannot go without saying is that even if a felony is reduced to a misdemeanor under Penal Code § 1170.18, the section allowing a court this power, the individual's right to possess a firearm will not be restored. The state and federal lifetime ban will still apply.
For more information about the issues in this case, click on the following articles:
Does Prop 47's Definition of Unreasonable Risk to Public Safety Apply Retroactively to Allow Resentencing under the Three Strikes Reform Act?
Contact us.