Torrance, Man under the Influence of a Controlled Substance
Summary in 50 Words or Less: Client with lengthy criminal history found by Gardena Police Department under the influence of a controlled substance (Health & Safety Code § 11550(a)), offered DA diversion of a dismissal if he attended 52 NA meetings and showed proof of employment; client then disappears and bench warrant is issued.

Our client, a thirty-nine-year-old man, was found wandering around the parking lot of the Burnt Tortilla parking lot on Redondo Beach Boulevard in Gardena. Other people going to the restaurant suspected he was casing out a car to steal, so they called the police.

The Gardena Police Department arrived and found our client walking back and forth in the relatively small parking lot, looking at cars. They contacted our client, who explained to the police that he was looking for his car because "they" brought it to the parking lot.
Police asked who "they" were and our client explained that his car had been impounded and he thought the Burnt Tortilla parking lot was the impound lot. Police then asked our client if he was under the influence of any drugs without a prescription and he candidly stated he had taken Oxycodone, Percocet (a form of oxycodone) and Xanax (a form of alprazolam).
Police then told him he was not in a police impound lot and that he was under arrest for violating Health & Safety Code § 11550(a), being under the influence or use of a controlled substance without a valid prescription. He was then taken to the Gardena police station.
Once at the station, police found out he had an active bench warrant for a domestic violence case out of Redondo Beach and therefore held him in custody for that case as well. He was not allowed to post bail and was held in custody until the next morning, when he was taken to the Torrance Courthouse and arraigned for both cases.
The Torrance Superior Court judge looked through our client's criminal history and noted that he had no felony convictions, but he did have seven misdemeanor convictions, mostly related to either possession of drugs or being under the influence of drugs or alcohol. Some were theft-related convictions, possibly related to seeking money to buy more drugs to satiate a habit. Such convictions for our client included, sadly, attempted grand theft (Penal Code §§ 664, 487) in Torrance and forgery (Penal Code § 470), which was actually dismissed eventually through a civil compromise under Penal Code §§ 1377 and 1378.
The client also had a prior conviction for Health & Safety Code § 11550 (PCP) from Torrance, a violation of Health & Safety Code § 11377(a) (possession of marijuana before Prop 64 made it legal for those over 21), also from Torrance, a second conviction for § 11377(a) in San Bernardino and two other drug possession cases dismissed through Prop 36 and PC 1000. In addition, he had convictions for cruelty to animals (Penal Code § 597(b)) in Torrance, resisting a police officer (Penal Code § 148(a)(1)) in Torrance, public intoxication (Penal Code § 647(f)) in Redondo Beach and driving on a suspended license (Vehicle Code § 14601.1(a)) in Torrance.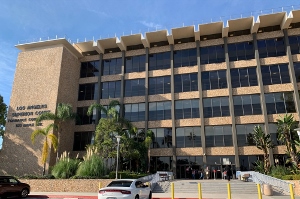 Torrance Superior Courthouse
The Torrance judge considering bail for our client set it at $50,000 for his domestic violence case, which was a misdemeanor and thus by the bail schedule could have been less (it was a misdemeanor), but due to his history and picking up a second active case, she chose $50,000. The client's mom then quickly posted bail for her son.
The client and his mom then retained Greg Hill & Associates. The client spoke with Greg Hill and explained what had happened, his employment situation and his earnest hope to start a new chapter in his life free of drugs and alcohol. Greg suggested that the client immediately start attending Narcotics Anonymous (NA) meetings, not because Greg believed our client had a drug use issue, but because proof of such attendance would help resolve the case, perhaps with no jail.
The Torrance District Attorney (DA) handling the case was sympathetic to our client's obvious substance abuse problems and offered a dismissal if he could present proof of attending 52 Narcotics Anonymous meetings and show proof of employment. This was known as DA diversion. Upon proof of attending 52 NA meetings, DA diversion would end and the case would be dismissed.
Greg relayed this offer to the client, who seemed quite relieved that the prosecutor was willing to give our client a second chance (perhaps more than just a second chance). Unfortunately, however, our client never attended any NA meetings and never gave Greg proof of his employment.
Our office then lost contact with the client and we were forced to ask the judge to permit our withdrawal from the case, which the judge granted. It was a sad way for the offer to slip away for our client, who definitely needed a lucky break, which the DA diversion offer seemed to offer.
For more information about drug offenses, please click on the following articles:
Contact us.