Torrance, Xanax, Norco & Cocaine for Sales, Diversion Program
Torrance police noticed our client at about midnight in a Torrance CVS parking lot off Pacific Coast Highway and Anza Boulevard. It was a Saturday night. According to the police report, he was seen handing another person a small packet, but disguising the transfer as a handshake. The police officer characterized the handshake as a common method used by drug dealers to exchange drugs for money.

Police then followed our client for several blocks, eventually initiating a traffic stop when our client supposedly failed to come to a complete stop at a stop sign. Police asked if they could search the car and our client consented.
In the car, they found a Mountain Dew can with a false bottom. Our client had bought the can at a swap meet. In the bottom, which could be unscrewed, they found about twenty pills that our client admitted were from his parents' prescription medications. In the car, in our client's backpack, they also found about 100 small baggies that could be used to carry small amounts of drugs. The police also found Xanax ("Bars") pills, Norco, Klonopin and a very tiny quantity of cocaine.
Synopsis: Torrance Courthouse, felony possession of Xanax, Norco and cocaine for sales, client admits to sales, diversion deal and dismissal.

Our client, age 19 and a recent high school graduate, also allegedly admitted to police that he had made a sale to the other individual and allegedly, that he had made about six similar sales in the past. Our client denied ever saying this to the police. Police conveniently did not record this conversation.
Police also noted in their report that they smelled a strong odor of marijuana in the car. Our client, it should be noted, was in the car with his girlfriend, so it was unclear if the smell could be attributed entirely to our client.
Police then seized our client's cell phone and noticed in his Facebook profile many messages that seemed to suggest he was actively selling Xanax, as he referred to "Bars" in conversations with others. Whether the client consented to this search of his cellphone also was unclear, as the police report did not state that our client permitted police to do so and a warrant is otherwise required for such a search.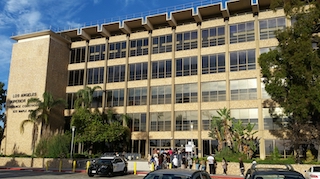 Torrance Courthouse
Torrance police then arrested our client, citing him for felony violations of Health and Safety Code §§ 11378 (for sales of alprazolam (Xanax)) and 11379(a) (for transportation of alprazolam for sales). The 11378 carried with it a minimum term of sixteen months in state prison and a maximum term of three years. The 11379(a) charge carried with it a minimum term of two years in state prison and maximum term of four years, also in state prison.
Our client's family bailed out their son and hired Greg Hill & Associates.
Greg Hill then met with the client and his parents and discussed the case facts, the multiple possible search and seizure violations, as well as the exposure the client faced if convicted.
Greg and the client then appeared in the Torrance Court for the client's arraignment. After several appearances, Greg was able to negotiate a plea bargain, emphasizing the client's young age and good family. It took much negotiating, but in the end, the plea bargain spared the client any jail time and even allowed him the opportunity to "earn" a dismissal if he did certain things. Our client was required to attend 104 narcotics anonymous meetings in one year and perform 45 days of Cal-Trans. The client and his family were extremely happy because the client was able to continue going to school and work part time.
While the reader may wonder why our office did not file any motions to suppress evidence, the reason was that the prosecution understood the searches were indeed problematic, but both sides understood that if such a motion were filed and denied, any offer of diversion would be withdrawn. Therefore, Greg first pushed for a diversion offer, which allowed diversion, and such an agreement was reached.
For more information about the issues in this case summary and a change in the law that came into effect after this case was resolved in mid-2013, click on the following articles:
Watch our video about Drug Offenses by clicking
here
.
Contact us.