Case Results on Criminal Violation of Restraining Orders
To read about our criminal restraining order cases, please click on the detailed case descriptions below.
Anyone who reads the above case results will recognize that there are strict procedural requirements for the prosecution of these types of cases. There are also narrow factual requirements that must be proven, too, which helps exclude false accusations of such violations (i.e. by the angry ex-wife or former husband seeking to annoy or vex the defendant).
Foremost is a validly issued, lawful protective order or restraining order (this can include a stay away order, i.e. in a stalking case, an elder abuse case, a shoplifting case, domestic violence case, prostitution matter or trespassing case, even one issued from an out-of-court state like in a domestic violence matter). This is both a factual and procedural issue.
It is important that the reader understands the distinction between a condition of probation and a protective order or stay away order. When a protective order or stay away order is issued as a condition of probation, the violation of the order most likely will be handled as a simple probation violation matter. However, when the order is distinct from a condition of probation (and judges are smart about making the order separate from a probation condition), the violation will be handled separately as a violation of a protective order.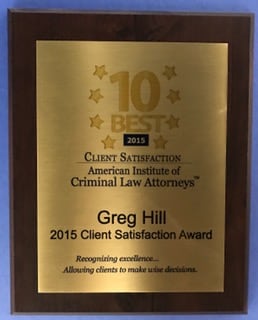 If a defendant does not think the protective order was lawful, he or she can assert a "collateral attack" on the order as a defense to the violation of the order charge. People v. Gonzalez (1996) 12 Cal.4th 804, 816-818; In re Berry (1968) 68 Cal.2d 137, 147 [65 Cal.Rptr. 273, 436 P.2d 273].
The defendant may also raise this issue in a demurrer, but is not required to do it this way. Gonzalez, supra, at 821, 824; In re Berry, supra, 68 Cal.2d at p. 146. Beware, however, that the question of whether the order was lawfully issued is the type of question normally resolved by the court, usually by the same judge that issued the order. Gonzalez, supra, at 816-820; In re Berry, supra, 68 Cal.2d at p. 147.
This also means that the order must be properly served on defendant, so he or she had knowledge of what not to do (People v. Poe (1965) 236 Cal.App.2d Supp. 928, 938-941 [47 Cal.Rptr. 670]; People v. Brindley (1965) 236 Cal.App.2d Supp. 925, 927-928 [47 Cal.Rptr. 668], and that it was written in a way that defendant could comply with it.
This does not mean that defendant must read the order word for word. It also does not mean that there must be a proof of service on file or even signed. People v. Saffell (1946) 74 Cal.App.2d Supp. 967, 979 [168 P.2d 497].
However, to be prosecuted for violation of a restraining order, defendant must violate the order and do so willfully, meaning with knowledge that the order was being violated. The violation cannot be accidental, as one of the case summaries above illustrates.
While the above case results do not show cases where one of our clients was punished to the fullest extent possible, one should know that violation of a protective order or restraining order, when prosecuted as a misdemeanor, can result in up to six months in county jail and a fine of up to $1,000, plus penalties and assessments (meaning a total of up to about $4,500).
When there are exacerbating factors, the punishment can increase beyond the six months in county jail to up to a year. Such factors include violating the order by possessing or owning a firearm, a second violation within seven years of a first violation of the order or violating the order if based upon a conviction for stalking. When the protected person is injured as a result of the violation, there is a mandatory minimum of two days in country jail.
When the underlying order is related to a domestic violence or elder abuse situation, violation of such an order is a wobbler, meaning it can be charged either as a misdemeanor or a felony. If charged as a felony, defendant faces up to three years in state prison.
For more information about restraining orders, click on the following articles:
I Face a Civil Restraining Order for Domestic Violence and a Criminal Charge of Domestic Violence – What Should I Do?
Watch our video about restraining orders by clicking here.