Ten Year Restraining Order Proper for Female Stalker?
Nancy Clayburg had a daughter with B. Clayburg. In April of 2007, the two separated. At the time, their daughter was nine years old. The daughter stayed with Mr. Clayburg.
Synopsis: Ten-year restraining order proper for mother who stalks husband and scares daughter.

In November of 2007, Mrs. Clayburg went to her husband's house, where her daughter then lived. She took a Lynx Black Cat golf club with her and pounded on the front door of the house, demanding custody of her daughter. The daughter was inside and heard the pounding, but B. did not open the door. B. told Mrs. Clayburg he would call the police. Their daughter "saw her mom and then ran to her room, crying."
Two months later, in January, 2008, Mrs. Clayburg left a message on B.'s voicemail, saying the devil will get B. and "God will let this happen." When the message was played back, the couple's daughter heard it. This scared the daughter. In the same month, in a family law court hearing, the daughter testified that "she was afraid that if she (her mom) saw B., she would physically harm him and then face criminal charges."
In December, 2008, Mrs. Clayburg again went to B.'s house. This time, she spread manure "all over" B.'s porch and driveway.
Later, someone smashed four of the six windows in B.'s truck. A Lynx Black Cat golf club was found next to the truck.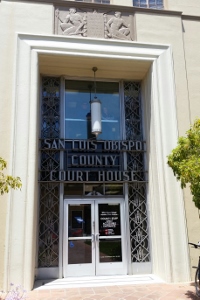 San Luis Obispo Courthouse

Mr. Clayburg then obtained restraining orders against Mrs. Clayburg. Shortly thereafter, at 1:30 a.m., while B. and his daughter were sleeping, Mrs. Calyburg came to B.'s house and shattered the windows in B.'s dining room, bedroom and French doors. B.'s daughter awoke when the glass was breaking and "got really scared." Mrs. Clayburg also shattered windshields of B.'s brother's vehicle, which was parked in the driveway.
Mrs. Clayburg was then charged in San Luis Obispo Superior Court with and convicted of misdemeanor stalking (Penal Code § 646.9(a)). She was sentenced to two years and eight months in prison. Furthermore, the judge ordered that Mrs. Clayburg have no contact with her daughter for ten years, under Penal Code § 646.9(k)(1).
Mrs. Clayburg appealed the protective order in so far as it prevented her from contact with her daughter, as her daughter was not a named victim of the stalking.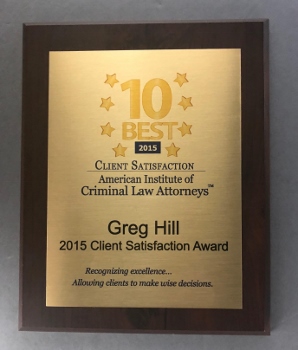 The Second Appellate District, in
People v. Nancy Lynn Clayburg
(2012 DJDAR 15638), affirmed the trial court judge's ten year protective order. The appellate court looked at Penal Code § 646.9(k)(1), wherein the judge had discretion to issue such an order "based upon the seriousness of the facts before the court, the probability of future violations, and the safety of the victim and his or her immediate family."
In response to Mrs. Clayburg's argument that since the prosecutor did not name her daughter as a victim, the judge could not issue a protective order for her, the appellate court commented that the statute must be liberally construed, as it is remedial, rather than punitive, in nature. To adopt Mrs. Clayburg's interpretation "would not prevent the mischief at which it is directed."
Moreover, classifying the daughter as a victim for purpose of a post-conviction restraining order was also consistent with the latest legal definition of "victim:" as "a person harmed by a crime, tort, or other wrong." Black's Law Dictionary (9th Ed; 2009).
Justice Perren dissented from the majority, pointing out that the charge of stalking the daughter was dismissed prior to trial. He also stated that the first sentence of Penal Code § 646.9(k) identifies the power to the court to issue a protective order in favor of the victim. It does not have any language that suggests a liberal construction is appropriate.
The citation for the Court of Appeals ruling discussed above is People v. Nancy Lynn Clayburg (2012) 211 Cal.App.4th 86.

For more information about domestic violence issues, click on the following articles:
Contact
Greg Hill & Associates