Torrance, Violation of a Protective Order, Resolved for 415
Our client, age 43, and his girlfriend, age 35, had a relationship marked by constant fights, often fueled by alcohol.
Six years earlier, the girlfriend had called the police, alleging domestic violence. The Lomita Sheriffs had arrived, arrested our client and he later entered a "no contest" plea to a violation of Penal Code § 273.5, as a misdemeanor. He then successfully completed three years of summary probation.

The Main Point: Client violates criminal protective order in Torrance by breaking down bathroom door to rescue his girlfriend / prevent her from committing suicide after she threatens to commit suicide. She tells him he is an idiot. Case resolved for misdemeanor disturbing the peace.

Then one day, his girlfriend got extremely drunk and threatened to commit suicide. She locked herself in the bathroom and refused to open the door or come out. Our client was aware of her suicidal tendencies, so he broke down the door and entered, intending to rescue her. When he entered, he found her in the bathtub, fully clothed, laying down. He pulled her out immediately and shook her, trying to make sure she was coherent.
She was so upset by his shaking that she filed a civil restraining order against him for the "violence." The judge granted the order, being heavily influenced by our client's prior conviction for domestic violence.
Two months after the restraining order was granted, the couple fought again, again fueled by alcohol. The girlfriend went into the bathroom, locking the door and threatening to kill herself again. Our client again broke down the door (he was a big guy – well over 300 pounds), but this time, did not touch his girlfriend, who was again in the bathtub.
This time, he called 911 for assistance. After he called, his girlfriend got out of the tub, exclaiming "I'm all right, you idiot!" and pushed him backward. He responded by pushing her back.
When the police came, the girlfriend explained she was OK and stated that she had pushed him and he pushed her back and punched her in the face. Our client had clearly acted in self-defense, but the Torrance Police Department arrested him for violation of a restraining order, a criminal act under Penal Code § 166(a)(4). Photographs of the girlfriend's face showed no bruising and no trauma whatsoever.
He immediately came to Greg Hill & Associates and met with Greg Hill, explaining the factual background to the case. Greg listened, narrowing down the case to the issue of whether one may exercise self-defense from a protected person under a restraining order if the protected person is the aggressor.
The client knew he had a long-standing alcohol abuse problem, but Greg was quick to say that alcohol did not seem to be a factor in the latest incident. He was trying to rescue his girlfriend and then acted in self-defense, but ironically he was the one arrested.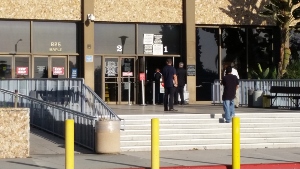 Torrance Superior Courthouse
Greg then appeared at the arraignment for our client and explained the situation to the Torrance City Prosecutor assigned to the case. Greg asked for a dismissal if our client could show proof of attending 52 alcoholics anonymous meetings. The prosecutor refused and offered a plea bargain wherein our client would serve 30 days in County Jail, be placed on three years of summary probation and pay the $435 booking fee.
Greg explained the tough offer being made by the prosecutor and urged our client to attend a few alcoholics anonymous meetings each week. Our client not only did this, but entered into and completed a 30-day dialectical behavior analysis program at Harbor UCLA. From this program, he was introduced to the cognitive behavioral analysis system of psychotherapy and completed a further 30-day program in this, also at Harbor UCLA. Our client felt he learned a lot from these two programs.
While the reader of this summary may be favorably impressed by this self-help sought out and completed by our client, the Torrance City Prosecutor would not dismiss the case. Instead, after many months of court appearances, she agreed to amend the complaint to allege a single count of Penal Code § 415(2), disturbing the peace, as a misdemeanor, with a one-year period of summary probation. No jail, no fines were associated with this offer.
Greg Hill did not like the offer being made, but the client was overjoyed by it, to avoid the conviction for a violation of Penal Code § 166(a)(4), and avoid 30 days in county jail. Greg was confident that a jury would find him not guilty, but the client wanted closure on this case and agreed to accept the plea bargain offered.
For more information about violations of protective orders, please click on the following articles:
Criminal Protective Order in Domestic Violence Case Is Improper When It Bars Father from Contacting His Kids, Who Were Not Victims in the Case
Contact us.