Pomona, DV Order, Case Dismissed on Sixth Amendment Issue
Our client, in his late twenties, had dated a woman who was quite proud that she had attended law school, although she ultimately did not graduate. In 2011, she and our client got into an argument, leading to their breaking up.
Summary: Pomona, client violates civil restraining order (domestic violence) by sending former girlfriend e-mails and text messages, case dismissed on Sixth Amendment grounds for lack of speedy trial.

To demonstrate her legal knowledge, she immediately obtained a civil restraining order against our client although it was he who broke up with her and had zero interest in ever seeing her again. She did so, however, to make it look like she had broken up with him and needed a court to agree with her position that he was a bad person.
She received the civil restraining order after falsifying the proof of service, which our client proved by showing a hotel receipt for the date because he was in Las Vegas when her alleged process server allegedly served our client in Pomona about an hour later. It was suspected that the process server actually was her.
The order was entered against our client without his knowledge, without his appearing in court, our client believed because the former girlfriend planned it so. The request for a restraining order was filled with false claims made to make her look like the victim.
However, the judge hearing the restraining order granted the order.
When our client returned from Las Vegas after a weekend there, he e-mailed and texted his former girlfriend, not knowing he was in violation of the order. The former girlfriend then took printouts of the e-mails and text messages to multiple police departments, filing police reports against our client in each. She wanted to make sure he was prosecuted by at least one.
Apparently, none of the police departments were aware that the ex-girlfriend had filed multiple police reports for the same conduct. Consequently, multiple district attorneys were provided police reports, each recommending prosecution.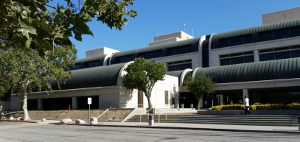 Rancho Cucamonga Courthouse
As it turned out, cases were brought against our client in Rancho Cucamonga in Riverside County and in Pomona in Los Angeles County, for essentially the same conduct. The ex-girlfriend was careful (devious) in how she gave each police department different e-mails and text messages. In civil litigation, this would be characterized as claim splitting, which is illegal.
Our client was immediately arrested on the Rancho Cucamonga case and Greg Hill defended him there, eventually reaching a reduction of the charges to just disturbing the peace (Penal Code section 415) as an infraction with a $150 fine..
In Pomona, however, it took two years for the client to be arrested after the case was filed. Greg Hill therefore filed a "
Serna
Motion," as it is commonly known after
Serna v. Superior Court
. Such a motion seeks dismissal of a misdemeanor charge when more than one year has passed after a case was filed, based on a deprivation of the client's Sixth Amendment Right to a Speedy Trial.
The motion described how the police reports were filed in multiple police departments in 2011 and cases were filed shortly thereafter in 2011, however, our client was not even arrested under almost two years later in 2013. The judge bristled at the manipulative scheme the former girlfriend had followed and, with much sympathy for our client, granted the motion.
Our client was obviously happy, knowing that his girlfriend's attempt to use the police and our courts had failed.
For more information about the issues in this case summary, click on the following articles:
Criminal Protective Order in Domestic Violence Case Is Improper When It Bars Father from Contacting His Kids, Who Were Not Victims in the Case
Contact us.