Airport Courthouse DUI Case Results
The Airport Courthouse, one of the newest courthouses in Los Angeles County, handles DUI matters from arrests along the 105 Freeway, Hawthorne, El Segundo, Westchester, Culver City and Marina Del Rey.
Most misdemeanor DUI matters are handled in Departments 140 and 141 on the third floor. Such cases are assigned to various prosecutors, depending upon the location of the arrest. The Santa Monica City Attorney, the Los Angeles City Attorney and the District Attorney prosecute misdemeanor DUI's at this courthouse.
Most felony DUI matters start in Department 144 on the ninth floor. The District Attorney's Office handles such cases.
For Airport Courthouse contact information and a Google Map, please click here.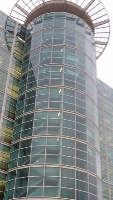 Our results at the Airport Courthouse are no guarantee of future results. Over time, prosecutors change and the general approach toward DUI also changes. However, we can say that of the many courthouses in Los Angeles County, the Airport Courthouse is one of the fairest courthouses. The prosecutors are generally pleasant, patient and professional.
For a sample of some of our better results from the Airport Courthouse, click on the following case summaries to read a detailed description of the cases.
Contact us.