El Segundo, Second-Time DUI, 0.20% BAC, Probation Violation
Our client, age 25, was at a bar in El Segundo and having a good time. He had been drinking, but he did not think it was too much.

Patrons at the bar disagreed and told him to leave. He became angry at their suggestion that he needed to leave and refused to leave. Finally, they called 911 and our client quickly left.
Summary: Client told to leave El Segundo bar by other patrons. Client refuses and the other bar patrons call 911. He then leaves and police stop him immediately. His BAC was 0.20%. It is a second-time DUI at the Airport Courthouse. First plea bargain offered was 180 days in county jail; case resolved for 96 hours in county jail.
He was concerned about being arrested for public intoxication because he had previously been convicted of this in the Torrance Courthouse for a case out of Hermosa Beach. He also was on probation for a DUI out of Orange County, so he did not want the police to wait him out before he left to then arrest him for DUI. So, he decided to make a run for it.
Unfortunately, he did not act quick enough because just as he was pulling out of the parking lot, the police arrived and witnesses pointed towards our client's car, leaving.
Police set out to stop our client and did so within a quarter mile. The police report claimed they observed our client lane straddling for four seconds "several times" and making an unsafe right turn at an intersection.
However, inspection of the MVARS video (the dash-cam) revealed that our client only lane straddled once and only for 1.5 seconds. Secondly, there was insufficient distance for our client to lane straddle "several times" for four seconds while traveling at 35 miles per hour since he was stopped within a quarter mile. Lastly, the unsafe turn did not affect the safety of any other driver, which recent case law in People v. Carmona requires.
The client's breath alcohol content, measured as a proxy for his blood alcohol content (BAC), was 0.20%, or 2.5 times the legal limit.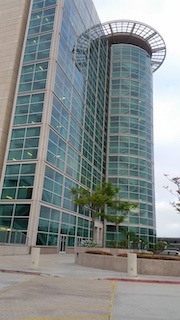 Airport Courthouse
The client appeared at his arraignment himself and was told the offer was 180 days in county jail, as he was on probation for a 2015 DUI out of Orange County and his BAC was high. After the 180 days in jail, he would be placed on four years of summary probation, pay a fine of $500, plus penalties and assessments and enroll in and complete the SB38 alcohol awareness program (18 months in duration).
The client was shocked at the plea bargain offered, so he called Greg Hill & Associates. The client immediately spoke with Greg and discussed the facts of the case, as well as the offer. Greg explained how such cases are handled at the Airport Courthouse and that he thought the offer was really quite disproportional for a second-time DUI, even if there was a probation violation and a high BAC.
Greg then appeared in court and substituted in for the public defender. Greg demanded and then obtained a copy of the MVARS and the 911 call. Greg then reviewed each and found that the 911 call never even described our client driving, so it did not give the officers reasonable suspicion to make a traffic stop under People v. Wells.
Greg then reviewed the MVARS and found that the officer, who signed his statement of probable cause under oath no less, had clearly exaggerated the duration of the lane straddling as well as stating the he observed lane straddling "several times."
Greg brought these issues to the attention of the district attorney and indicated he believed a Pitchess motion was appropriate to see if the officer had previously lied on a police report, which might make a jury find he was a "dirty cop."
Greg also discussed a motion to suppress evidence because while lane straddling is illegal, one quick lane straddle, if not followed by other traffic violations, does not constitute a pattern of impaired driving. Therefore, such a traffic stop was improper. After all, the right turn observed on the MVARS did not show our client affecting the safety of any other vehicle.
The handling district attorney listened to Greg and asked for a few minutes to call his supervisor.
After a few minutes, the handling district attorney said he would resolve the case for 96 hours of county jail only, as well as the same terms previously offered, if Greg would not file both motions.
Greg then discussed the new offer with the client. Greg explained that the big drop in the offer seemed to suggest the cop indeed had a history of writing false reports. It also suggested that the DA's office understood the MVARS would undermine the officer's credulity.
However, Greg also explained that despite this leverage, a jury most likely would still convict him of DUI just based on his BAC and the video of him taking the field sobriety tests, which revealed he was extremely drunk indeed.
The client therefore agreed to waive the two motions and accept the offer, happy that he had retained Greg because the offer was reduced by 176 days of jail time.
For more information about second DUI issues, please click on the following articles:
Contact us.