What Punishment Do I Face for a Second DUI? Jail Time?
Many people do not hire an attorney for their first DUI, but do so for their second DUI. After the person was arrested for their first DUI, they did not think the crime was too serious and simply accepted a plea bargain at the first court appearance. In the first DUI, the driver may have had the conviction reduced to reckless driving (Vehicle Code § 23103 pursuant to 23103.5), also known as a "wet reckless."
The Gist of this Article: The statutory minimum punishment for a second-time DUI as a misdemeanor, is service of 96 hours in county jail, three years of informal (or summary) probation, enrollment in and completion of an 18-month SB38 alcohol awareness (outpatient) program, loss of one's driving privileges for two years and payment of a court fine of $390, plus penalties and assessments. Depending upon the facts of the DUI, the defendant's criminal history and local DUI policy, the punishment may be more than the minimum.

During the classes that followed and in making the fine payments to the court, the person realizes that they do not want to go through the punishment again, especially because they learn along the way that the punishment for a second-time DUI is even more severe.
This is true and it is a common story we hear when a second-time DUI client first contacts us.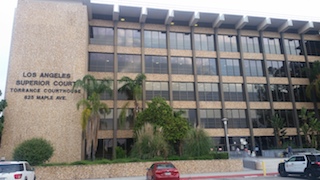 Torrance Courthouse
Is your case really a second-time DUI under California law? In other words, was your prior DUI arrest date within ten years of your pending DUI? If your prior arrest led to a "wet reckless," it unfortunately counts as a prior DUI. If your prior arrest was in another state and it led to a conviction in another state, that out-of-state conviction can be counted as a prior DUI, but it is smart to have your attorney evaluate this more closely.
If the prior DUI arrest, leading to a conviction was more than ten years since your current DUI, your pending DUI is treated as a first-time DUI. This means your prior DUI exceeds the "look-back period" or it "washed out."
The punishment for a second-time DUI is indeed more harsh than a first-time DUI. By statute (Vehicle Code § 23540), the minimum punishment that must be ordered is that the defendant be placed on a minimum of three years (up to five years) of informal or summary probation, conditioned upon requirements that defendant:
1. Serve at least 96 hours in the county jail (it may be possible to serve this at a local private jail or even house arrest, depending on the facts of the case), up to a maximum of one year;

2. Enroll in and complete an 18 month alcohol awareness program (called the SB38 program);

3. Pay a court fine of at least $390, plus penalties and assessments that boost the total owed to approximately $2,000. The court can allow this fine to be mostly satisfied by community service if requested by the defendant. The fine can be up to a maximum of $1,000;

4. Lose his driving privileges for two years; and

5. Pay the booking fee involved (these vary, but can be as low as $160 (Long Beach as of September, 2014) to $438 (Torrance));

It is important to note that in some counties, the judge will require a minimum of ten days in county jail (Orange County), or even 45 days (San Bernardino County). Likewise, in other counties, the court may have a minimum court fine of $500.
As one might expect, the above minimum penalties may not apply if there was a car accident involved, a car accident with injuries, defendant drove at a high speed, had a high blood alcohol content, defendant is under 21, the prior DUI was still in probation status, the driver resisted arrest, the driver refused to submit to a breath or blood test, there was a child under 14 in the car (this can be separately charged as a violation of Penal Code § 273a, child endangerment), or there are other crimes involved (most commonly, possession of a controlled substance or a concealed weapon is found in the car).
In addition, as a condition of probation, Defendant is prohibited from driving with any measureable amount of alcohol in his or her system. The judge will also order that the defendant shall not refuse to submit to any breath, blood or urine test requested by a police officer. This includes a request that the driver submit to a preliminary alcohol screening (PAS) test, which anyone over 21 or otherwise not on probation has a right to refuse to submit to.
The judge may also require that the defendant attend a minimum number of Alcoholics Anonymous (AA) meeting or a Mothers Against Drunk Driving (MADD) meeting.
The judge can also order that defendant participate in the one-day Hospital and Morgue (HAM) program.
Lastly, if the driver loses at his or her DMV hearing or does not have such a hearing, the Department of Motor Vehicles will also suspend the driving privileges of the driver for a year, however, the driver may apply for a restricted license after 90 days of actual suspension. If such a restricted license is granted, the driver can be required by the DMV to install an ignition interlock device (IID) for up to four years. In Los Angeles, Tulare, Alameda and Sacramento County, the judge can also order that the IID installation is mandatory in case defendant gets a restricted license, but in other counties, it is not.
It is important to note that the DMV will order a suspension for one year, but the court may order it suspended for two years. In our experience, many judges do not impose any suspension on a second time DUI, but simply order that the client comply with any license restrictions imposed by the DMV.
Because the punishment is so harsh, it is great to have the second-time DUI case end in dismissal rather than a conviction. Hiring an attorney can make that happen if the facts are such that a motion to suppress is granted or even that the case be negotiated down to reckless driving with first-time DUI conditions.
For more information about the issues in this article, click on the following articles:
Contact us.