Second-Time DUI and Restricted License After 90 Days?
There is a common misunderstanding that a second-time DUI always results in a one year suspension of one's driver's license. This is somewhat sad in that 270 days of this suspension is too long. This is because the law on one's driving privileges and a second time DUI changed several years ago and many attorneys simply are not aware of this.
What to Take Away: Under Vehicle Code § 13352(a)(3), a person convicted of a second DUI within ten years has the right to be issued a restricted license after serving 90 days of actual suspension, unless the second-time DUI is a felony DUI, a DUI with a refusal to submit to a breath or blood test or an underage DUI. Even the DMV is often unaware of this and reluctant to issue such a restricted license, so a talk with a supervisor there is often necessary.

On July 1, 2010, Vehicle Code § 13352(a)(3) was amended to allow second time DUI offenders to apply for a restricted license with installation of an IID after ninety days of actual suspension. Previously, a second-time DUI offender was stuck with a one year license suspension.
Dominique Mateo was convicted of DUI three times, but only twice within the last ten years. As such, Mateo's third DUI was considered a second-time DUI because the first DUI was more than ten years from the date of the third DUI. After his third DUI conviction, which also involved a traffic accident, the DMV suspended his driver's license for one year. The accident happened on February 23, 2010, or before section 13352(a)(3) was amended.
After ninety days of actual suspension, Mateo went to the DMV and requested a restricted license. The DMV denied his request and Mateo filed a writ of mandamus in the Superior Court, challenging the DMV's refusal to grant him a restricted license with an IID.
The Superior Court granted Mateo's writ, ordering the DMV to grant Mateo an IID-restricted license. The superior court based its decision on In re Estrada (1965) 63 Cal. 2d 740 and
People v. Durbin
(1966) 64 Cal. 2d 474, saying that according to these cases, Mateo "was entitled to the benefit of a statutory decrease in punishment at the time of his conviction".
Dominique Niki Mateo
(2012 DJDAR 13353). In addition, the First Appellate District found that the legislative history suggested 13352(a)(3) could be applied retroactively.
The DMV claimed that the legislative history was actually not so clear as Mateo argued. The First Appellate District disagreed.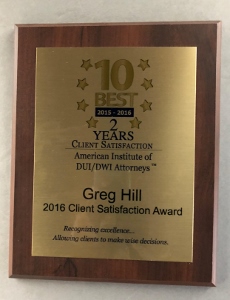 In addition, the First Appellate District cited to amicus curiae ("friend of the court") briefs that made a valid academic argument. Amicus curiae pointed out that applying the amended version of 13352(a)(3) to persons arrested, yet not convicted, " is not in fact applying the statue retroactively because it does not change the legal consequences of past conduct by imposing new or different liabilities based upon such conduct." The First Appellate District considered this point meritorious and consequently, found its application of 13352(a)(3) to Mateo proper.
Moreover, the court discussed at length the distinction between applying a sanction retro- actively, which is presumed invalid, and Mateo's situation, where he was being granted a new right. The court pointed out that these situations were found materially different. In addition, the underlying criminal punishment ordered by the court for the second-time DUI was unchanged. The court characterized its retroactive application of 13352(a)(3) as more of a change in the rules for administering license suspensions only.
Costs on appeal were awarded to Mateo.
For more information about DMV consequences of a DUI, click on the following articles:
Contact
Greg Hill & Associates