What Is House Arrest and the Sentinel Monitoring System?
If you face time in county jail and fear losing your job because of this, it is smart to consider house arrest and Sentinel Monitoring System. (
Diversified Monitoring & Scram has replaced Sentinel for home monitoring services in Los Angeles, Riverside and Orange Counties for 2017
). This can be a way to serve one's time in county jail while still fulfilling one's employment obligations if one can work from home via phone calls and e-mail.
In a Nutshell: House arrest is a way for a defendant to serve his or her county jail sentence at home and continue to work, sometimes even with permission to travel to and from home to work. House arrest is usually not approved for domestic violence or sex offenses. It is not free, as one must be fitted with a GPS device to monitor defendant's whereabouts.

In certain cases, the judge may even permit the defendant to drive to and from work, religious activities, grocery shopping, laundry, school, counseling, doctor / dental appointments and Alcoholics Anonymous (AA) or Narcotics Anonymous (NA) meetings.
This article is meant to clarify what is possible through Sentinel, which is the only court-approved home monitoring system for Los Angeles County. Sentinel also offers services in Riverside, Ventura and San Diego counties, but not Orange County. In Orange County, Diversified Monitoring & Scram handles Orange County house arrest cases.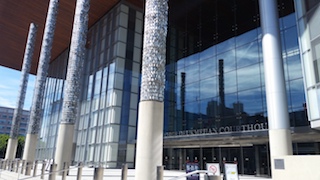 Long Beach Courthouse
The program is not for everyone. For example, some domestic violence cases are ineligible, as are most sex offense matters. Likewise, someone who is going to serve more than 90 days may not want to serve such time on house arrest because there is no "good-time / work-time" credit available on house arrest, at least presently. The client will usually serve the full amount of time.
There are three devices that Sentinel provides for three basic programs. The first is a radio frequency (RF) home monitoring device. This is for "house arrest" as most of us understand it. The device is a two part system. The first part is an anklet device that is non-removable and water-proof. It transmits a signal to a larger device that then sends a signal to the local police department, either through a land-line or cell phone device. This cell-phone capability is improved technology, as this device used to require the client to have a land-line.
If the anklet is cut off or otherwise tampered with, an alert is sent to the local police to respond or investigate further.
The device is supposed to send an alert to the police every hour to confirm that the suspect (wearing the device) is within range of the larger device and thus, at home as ordered. The device has a back-up battery and a memory card to show the client's location in case this is ever an issue later. This device is used most frequently with juvenile cases and misdemeanor cases.
The client is supposed to be inside the house at all times. It is not allowed to be in one's backyard, next-door neighbor's house or even the garage. One can take a shower with the device, but not a bath because the device cannot be submerged in water. The device is charged for six months of use.
The second device is a GPS tracking device that simply tracks a client's movement, i.e. to and from work, AA/NA classes, church, etc., and back home to abide by a curfew. It is this type of device that allows more flexibility for the client. The police track the client's location. This type of device is used most frequently with high-risk clients. It must be charged periodically.
The third type of device is an alcohol monitoring system, which is best for a second-time or third-time DUI client. There are two versions of this system. One is the more well-known SCRAM device that detects transdermal alcohol emissions every 30 minutes and thus, alcohol intake. The second version is a BA / RT device, which uses facial image verification to verify the client's identity and then then allows mobile deep-lung fuel cell testing.
How to ask for court approval for any of these three devices depends upon the case facts, the terms of the plea bargain and the judge's evaluation of the case.
We sometimes ask for approval in court before the client ever surrenders for county jail or city jail. Other times, we prefer not to ask (for fear the judge will say no) and instead contact Sentinel to have the company arrange for pick up from the Century Regional Detention Facility (for women, in Lynwood) or the Men's Central Jail in downtown Los Angeles.
Some courts, such as Long Beach, Torrance and West Covina, allow for surrenders to Sentinel at court, which is optimal because it avoids the client spending hours or even days being processed through jail.
The cost of having a Sentinel device varies by the device. The GPS tracking device and the two-piece RF device are the same price, which includes a $57 fee for enrollment (current as of February, 2016) and then a daily fee of $1 to $25.
Sentinel has five locations in the Southern California area – in downtown Los Angeles near Men's Central, in downtown near CCB, in Compton, in Walnut near the Pomona courthouse and in Lancaster.
For more information about serving time, please click on the following articles:
Contact us.