El Segundo DUI, 0.16% BAC, Three-Month Alcohol Program
Our client, age 26, was a flight attendant in Los Angeles for a layover. She drove down to Hermosa Beach and found herself in a bar.
After a few drinks, she became friendly with a man who had an British accent and who said he was staying in a nearby hotel. Our client, married, agreed to drive him back to the hotel.
In a Nutshell: DUI stop made after 911 caller described a car that may not have been our client driving, but our client's breath measured at 0.16% BAC. Case resolved at Airport Courthouse with AB541 three-month alcohol awareness program and other minimum terms.
When the two left, he asked to drive. They got in her blue Acura TL and left Hermosa Beach, heading to his hotel to drop him off. His hotel was close to LAX, which was very close to where our client was staying (a home used by flight attendants for layovers).
As the two were traveling northbound on Sepulveda, he commented that he found driving "on the wrong side of the street" confusing and with the steering wheel on the wrong side, it made driving even more challenging. This was about 11:00 p.m.

A motorist driving behind the two saw the Acura weaving within the lane and called 911. In her call, which was recorded, she described how "they" almost hit the center divider curb twice and were having a tough time staying in the lane. The caller described how the car was going northbound on Sepulveda and had crossed Rosecrans, heading into El Segundo.
The caller then lost sight of the car, but had given 911 the license plate number. This was just after El Segundo Boulevard.
Five minutes later, during which time our client could have driven two or three miles. However, an El Segundo Police Officer made a traffic stop of our client in almost the same block as where she was five minutes earlier. This was because she had stopped at the hotel to drop off her male acquaintance, said good-bye and then began driving.
The police report attributed the poor driving entirely to our client, although the 911 caller repeatedly described the occupants of the vehicle as being more than one person.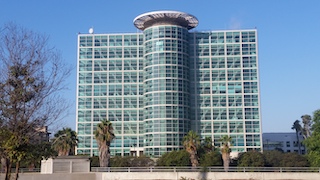 Airport Courthouse
The client opted to provide a blood sample at the station. While waiting for the phlebologist, she sat on the floor of the women's cell. Finally, the phlebologist arrived and set up her needle on the rim of the toilet seat. Our client asked the phlebologist if this was safe, as she would next draw blood from our client by placing the tip of the needle inside her body.
The phlebologist snapped at our client, yelling, "Don't tell me how to do my job" and, "you picked the wrong person to mess with."
Our client's blood alcohol content (BAC) was measured at 0.162% and 0.163%, or roughly just over twice the legal limit. Our client thought it was impossible for herself to have such a high BAC.
Our client's husband called Greg Hill & Associates once our client returned to Washington state. He had spoken with several attorneys earlier, but liked Greg's game plan and patience in discussing the case.
Greg then appeared on the client's behalf in the Airport courthouse at the arraignment and at several pre-trial hearings, eventually plea bargaining the case to a disposition where the client did enter a plea bargain for a DUI, but her punishment included the shortest DUI program, the three-month AB541 program, rather than the nine-month DUI program that is usually reserved for those with a BAC of 0.15% or higher, as our client had. The client also had to pay a minimum fine of $390, plus penalties and assessments (about $1850), but with credit for her time in custody, it was reduced to $922 or $707 and 12 hours of community service.
For more information about DUI issues, please click on the following articles:
U.S. Supreme Court Lowers Standards for Allowing a DUI Traffic Stop Based on an Anonymous Call to 911
Contact us.