Airport - Beverly Hills Courthouse Theft / Robbery Case Results
The Airport Courthouse handles theft / robbery matters arising in the El Segundo, Westchester, Santa Monica, Venice and LAX area.
The Airport Courthouse is located on La Cienega Boulevard very close to the intersection of the 405 and 105 Freeways.
Criminal matters that used to be processed by the Beverly Hills Courthouse are now handled, as of May, 2013, in the Airport Superior Court. This means arrests that took place in the Beverly Hills, West Hollywood, La Brea and Miracle Mile area are adjudicated at the Airport Courthouse.
Most misdemeanor Theft / Robbery's begin (and usually end) in Department 141 (with Commissioner Alan Rubin), 142 (with Commissioner Mark Zuckman) or 147 (with Judge Jane Godfrey). Such cases are prosecuted by the Los Angeles City Attorney's office, the Santa Monica City Prosecutor's office and the District Attorney's office.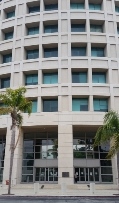 For Airport Courthouse contact information and a Google Map, please click here.

Consequently, in presenting the case summaries below, we ask that the reader appreciate that past results can mislead someone into expecting an identical or even better result in the future.
For a sample of some of our better results from the Airport – Beverly Hills Courthouse, click on the following case summaries for a detailed description of each case.
Airport Courthouse, Client with Extensive Criminal History Accused of Two Counts of Auto Burglary and Receiving Stolen Property, 60 Days Community Service and Formal Probation

Airport Courthouse, Airline Employee Accused of Stealing Hundreds of Thousands of Dollars in Passenger Property, Resolved for One Year House Arrest

Marina Del Rey, Client Steals $59 Ink Cartridge from Costco, Case Dismissed After Diversion, Airport Courthouse, Shoplifting Defense

Client, an LAX Baggage Handler, Accused of Felony Receiving Stolen Property After Police Find Over 350 Allegedly Stolen Items (High End Camera Equipment) at His Home, Case Resolved for One Count, 1 Year House Arrest, and All Items, Including Over $100,000 in Cash Returned to Client

Theft of Mail; Airport Courthouse; Deferred Entry of Judgment to Earn Dismissal of Penal Code § 484(a) Charge